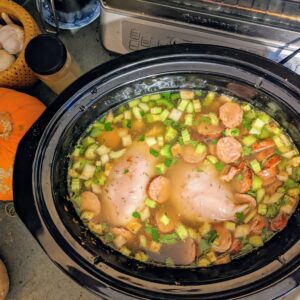 With the pandemic finally winding down, more and more churches are resuming potlucks, Lenten soup suppers, and other fellowship meals. What better time to turn our attention to the humble, faithful Crock Pot?
In this edition of Erin's Recipe Card, Erin's sharing her Uncle Kermit's spicy, savory Crock Pot gumbo recipe—a dish that's just as perfect for warming up on cold days as it is for cooling down on hot ones.
---
Uncle Kermit's Gumbo
Adapted for the slow-cooker by Erin
Ingredients
½ c roux- see note
6 stalks celery, chopped
1 med/large onion, chopped
2 large green peppers, chopped
¼ c parsley, chopped
4 cloves garlic, minced
½ t thyme
¼ t cayenne
½ t black pepper
½ t salt
1 lb. boneless skinless chicken thighs or breasts- see note
.5- .75 lb. sausage, sliced ½" thick- see note
4-5 c chicken stock
Optional: .5 lb. shelled shrimp, optional but delicious
For serving:
Salt, to taste
Cooked rice
1 bunch green onions, including as much green as you can- sliced
Hot sauce
Directions:
Add all ingredients, except optional shrimp and serving ingredients, to the slow cooker. Cook on low for 7-9 hours, or on high for 4 hours.
Optional: Shrimp cook very quickly, so add them near the end of cooking or cook them separately and add before serving.
Taste and adjust for seasonings.
Serve in bowls with rice. Top with sliced green onions and hot sauce.
Gumbo is even better a day or two after you make it and it freezes beautifully.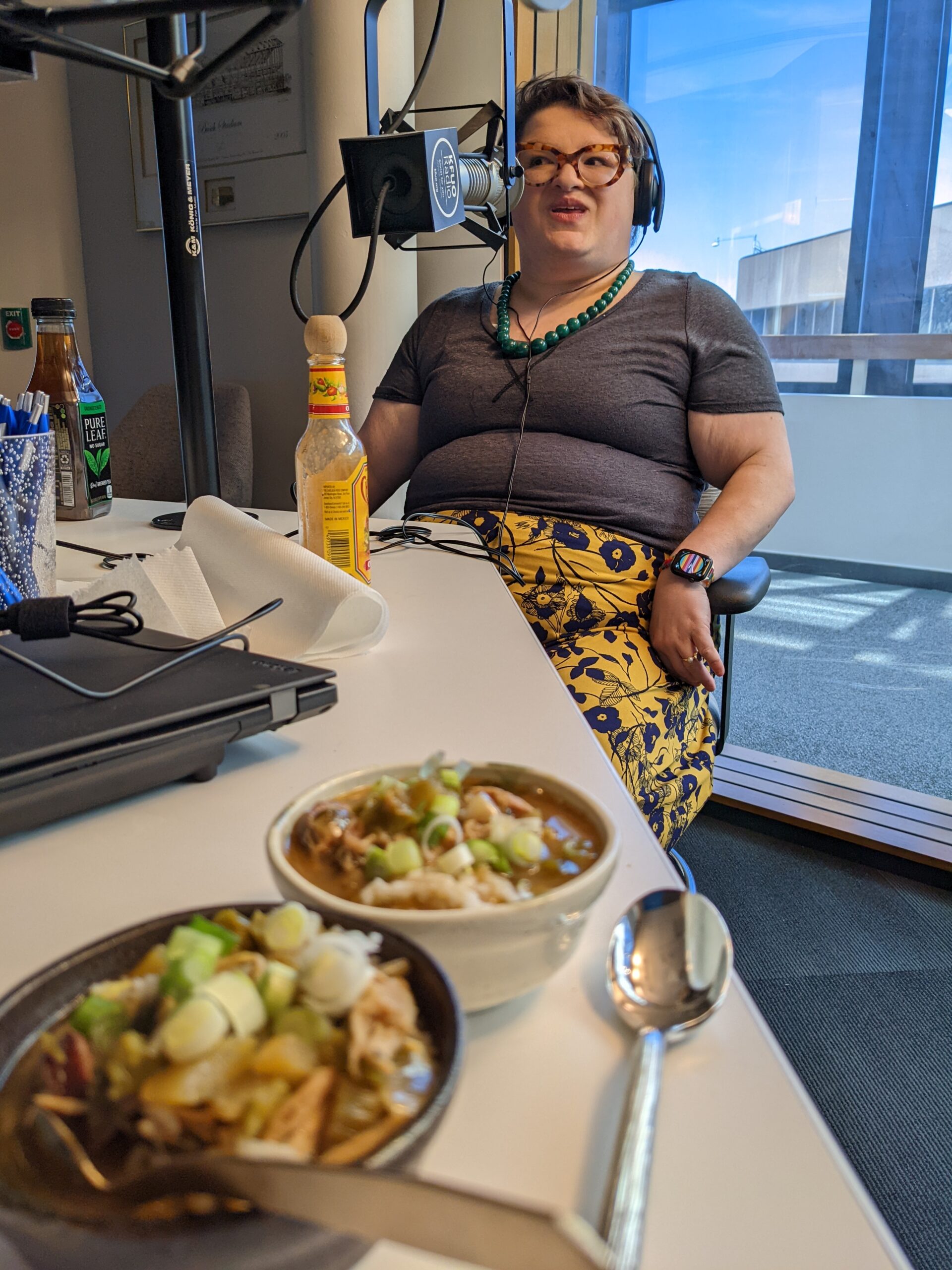 Notes:
On roux: If you make your own, use 4 T oil and 4 T flour. Cook slowly in a pan, stirring frequently, until it turns a dark brown, like the color of fudge. This will take a very long time. Don't go too quickly and burn the roux. If you see dark specks appear, you burned it and need to start over. Alternatively, take Uncle Kermit's approach and use a jar of prepared Cajun roux. I bought mine on Amazon.
On chicken: Use whole chicken thighs/breasts and shred the meat at the end. Use tongs to remove the pieces to a plate, and shred with a fork. Alternatively, you can cut the chicken meat into bite size pieces before putting it in the crockpot. To make it easier to cut, do so when it is partially frozen.
On sausage: Use a smoked sausage. Andouille is traditional, but if you can't find that- or if you prefer a milder sausage- kielbasa is a solid non-traditional option.
---
Connect with the Lutheran Ladies on social media in The Lutheran Ladies' Lounge Facebook discussion group (facebook.com/groups/LutheranLadiesLounge) and on Instagram @lutheranladieslounge. Follow Sarah (@hymnnerd), Rachel (@rachbomberger), Erin (@erinaltered), and Bri (@grrrzevske) on Instagram!
Sign up for the Lutheran Ladies' Lounge monthly e-newsletter here, and email the Ladies at lutheranladies@kfuo.org.
---
The Lutheran Ladies Lounge is the podcast produced by KFUO Radio and hosted by Sarah Gulseth, Erin Alter, Rachel Bomberger, and Bri Gerzevske. Created for Lutheran ladies to have a place to escape to with inviting conversations, laughter, and fellowship with Lutheran sisters, we invite all of you Lutheran ladies to join Sarah, Erin, Rachel, and Bri on the sofa in the Lutheran Ladies Lounge to sit, rest your feet, and stay a while. If you're a Lutheran lady, join us in our Facebook group: facebook.com/groups/LutheranLadiesLounge.