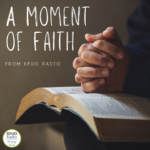 Rev. Doug Nicely, pastor  of Jerusalem Lutheran Church in Collinsville, Illinois, joins host Gary Duncan to reflect on the catechism and scripture. 
Show Time: Thursday at 12:00-1:00 p.m. Central Time
Subscribe:  Google Podcasts  //  Apple Podcasts  //  Spotify  //  iHeartRadio  //  Stitcher  //  TuneIn  //  RSS Feed

Pastor Nicely and Gary discuss the fifth commandment, respecting life.