Family Devotions: Devotional Resources
With guest Pamela Nummela, Editor of Vacation Bible School Materials at Concordia Publishing House, who talks about where you can get the resources you need to have devotions with everyone in your family.
Pam is an advocate for parents and children learning and growing together through family devotions. She encourages families to celebrate baptism, hear God's Word, talk with God and together in prayer, confess sins and receive God's gracious forgiveness, and serve God and others. To do these things, Pam recommends using Concordia Publishing House's rich devotional resources for families, children, youth, and adults. If you're looking for a place to start, Pam suggests that every Christian family recognize the "basics" of devotional life – the Bible (especially The Lutheran Study Bible), Luther's Small Catechism, and the hymnal (Lutheran Service Book).
---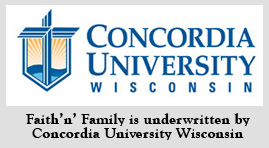 Send in your family questions to Family@kfuo.org or call host Rev. Rod Zwonitzer at (314)505-7839 and we'll address them on Friday's show!
Like us on Facebook Today!