Reformation Rush Hour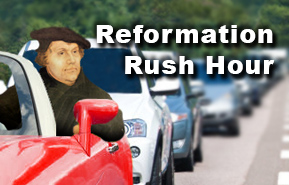 Rev. Walt Snyder – Weekly visit with saints from the church, observances and feasts.
Adriane Dorr Heins – Present to hear the Supreme Court arguments of the Hobby Lobby case.  Interviewed by Rev. Rod Zwonitzer.
Rev. President Tim Yeadon – President of the New England District of the Lutheran Church Mo. Synod.  Remembering Sandy Hook and the Boston Marathon attacks and the church's work in the midst of grief.  Also work that the N.E.D. is engaged in in Africa.
Dr. Gene Edward Veith – the importance of imagination and creativity in the church.
---