Segment 1: Last-Minute Summer Activities; Segment 2: Fatherhood Education
Home Educator, Jackie Meyer returns to Faith 'n' Family with ideas for last-minute summer activities for the family.
Bev Carlson and Dejuan Johnson with Lutheran Family Services of Nebraska discuss their Centers for Healthy Families and the work of a Fatherhood Specialist. www.lfsneb.org
---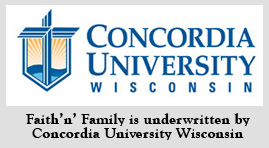 Send in your family questions to Family@kfuo.org or call host Andy Bates at (314) 996-1519 .
---