Spring Cooking with Kids
Erin Rich, RD, LD, Nutrition Educator, St. Louis District Dairy Council shares recipes and tips for nutritious meals and snacks for spring and summer that will quickly become a favorite for kids. Students from St. Mark's Lutheran School, Eureka, Missouri served as the discerning taste testers. Recipes below:
HOMEMADE FROYO
INGREDIENTS
1 1⁄2 overripe banana, sliced and frozen
2 cups fresh or unsweetened canned pineapple chunks, frozen
1⁄2 cup plain yogurt
1 teaspoon grated lime zest
INSTRUCTIONS
Put everything in the food processor fitted with a steel blade and process until smooth. Serve right away.
FRUIT KABOBS
INGREDIENTS
16 Strawberries, hulled and halved ("hulled" means with the green top and stem taken out)
1 banana, peeled and cut into 8 slices
2 kiwis, peeled and cut into 4 thick slices
8 cubes pineapple
Cheese cubes
INSTRUCTIONS
Poke the skewer into the center of a fruit piece and slide it on, adding fruit pieces in whatever order you like.
Serve right away.
GORP
INGREDIENTS
1⁄2 cup roasted, lightly salted whole almonds (or whatever nuts you like best)
1⁄2 cup raisins
1⁄4 cup dried cranberries or chopped dried apricots (or whatever dried fruit you like best)
1⁄4 cup cereal
1⁄4 cup toasted pepitas
¼ cup chocolate chips
INSTRUCTIONS
Put all the ingredients in the bowl and, using your clean hands, toss until well mixed.
Sprinkle on top of yogurt for a snack.
CHIPOTLE PEPPER DIP
INGREDIENTS
1 teaspoon chipotle pepper sauce
2 (8-ounce) containers low-fat plain yogurt
½ cup thick and chunky salsa
2 tablespoons cilantro, chopped
¼ cup cheddar cheese, shredded
Assorted cut vegetables or corn chips
INSTRUCTIONS
1.Combine all ingredients in medium bowl; mix until blended and refrigerate.
2.Add shredded cheese.
3.Serve with assorted cut vegetables or corn chips.
---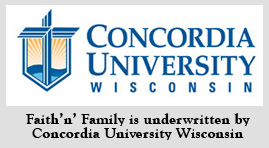 Send in your family questions to Family@kfuo.org or call host Andy Bates at (314) 996-1519 .
---