Nutrition: Ice Cream and Summer Snacks
Laura Morton MS, RD, Nutrition Educator from the St. Louis District Dairy Council talks about fun and healthy summer snacks!
RECIPES:
No Churn Ice Cream – 1.5 Quarts
2 cups heavy whipping cream
1 (14 ounce) can sweetened condensed milk
1 tablespoon vanilla extract OR 1 vanilla bean, seeds removed
Add the 2 cups heavy cream, 1 (14 ounce) can sweetened condensed milk and the seeds from 1 vanilla bean to the bowl of a stand mixer fitted with the whisk attachment (or use a hand held electric mixer). Whip until stiff peaks form. Spoon the ice cream into a freezer safe container and freeze 4 hours or overnight.
Roasted Strawberry Malts – 2 Servings
1 lb. strawberries–washed, trimmed, and quartered
3 tablespoons sugar
1-pint vanilla ice cream
3 tablespoons malt powder (like Carnation brand)
¼ cup milk
Preheat the oven to 375°F. Toss the quartered strawberries with the sugar and spread into an even layer on a baking dish. Roast for 25 to 30 minutes, until the strawberries are soft and the juices begin to caramelize. Remove the strawberries from the oven and set aside to cool.
Once the strawberries are cool, add them to a high-powered blender along with the ice cream, malt powder, and milk. Blend on high until smooth and combined, add more milk a few tablespoons at a time if you need to thin the shake. Pour into glasses and top with whipped cream and a strawberry.
Greek Yogurt Fudge Pops – 10 Pops
1 1/2 cups semi-sweet chocolate chips
1 cup milk
2 teaspoons vanilla extract
1 1/2 cups vanilla Greek yogurt
In a small sauce-pan over medium-low heat melt the chocolate chips, stirring constantly, until completely melted. Add in the milk and increase the heat to medium; bring to a gentle simmer, stirring constantly, then remove from heat. Cool for 5 minutes. Whisk in vanilla and Greek yogurt; mix well until completely smooth. Pour yogurt mixture into the Popsicle molds and place them in the freezer for 1 hour. At this point remove the pops from the freezer and insert the Popsicle sticks in. Freeze for 5 hours, or until firm.
---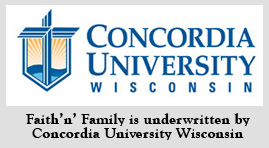 Send in your family questions to Family@kfuo.org or call host Andy Bates at (314) 996-1519 .
---