Guest Camille Smith, RD, LD, Nutrition Educator with the St. Louis District Dairy Council, joins us in studio to help us celebrate National Ice Cream Month! She shares some brief history of ice cream as well as two delicious recipes. Taste test panel of KFUO staff Sarah Gulseth, Sidney Kendall, and Kip Allen make sure the recipes are wonderful enough to share. Find the STL District Dairy Council at stldairycouncil.org or facebook.com/stlouisdairycouncil.
"Fried" Ice Cream
Makes 3 Servings
Ingredients
3 C. of vanilla ice cream, divided
2 Tbsp white granulated sugar
½ t. ground cinnamon
Topping
1 Tbsp butter
2 C. corn flakes (crushed)
½ t. ground cinnamon
Directions
Scoop the ice cream and shape each cup into a round ball. Place on a baking sheet or plate and put into the freezer for at least 3 hours.
Crush the corn flakes, sprinkle with cinnamon. Heat the butter in a small skillet over medium heat. Add the corn flakes and sauté for about 5 minutes or until the corn flakes are toasted.
In a small bowl combine the white sugar and remaining cinnamon.
Take the ice cream from the freezer, roll in the cinnamon sugar mixture, then coat with the toasted corn flakes.
Top with hot fudge, whipped cream and cherry
Serve immediately and enjoy!
Nutrition Facts: Calories: 270, Total Fat: 10 g, Protein: 3.6 g, Calcium: 16% Daily Value
---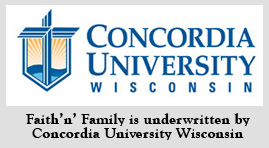 Send in your family questions to Family@kfuo.org or call host Andy Bates at (314) 996-1519.
---