Lutheran Senior Services: Veterans Fair
Maggy Spencer, Director of Stewardship, and Margaret Cox, Lifestyle Enrichment Associate, with Lutheran Senior Services Meramec Bluffs Senior Living Community talk about the upcoming Veterans Fair.
The fair is Tuesday, July 19th, 10:00 a.m. – 2:00 p.m. The Meramec Blufs Veteran Committee is proud to host a free "One Stop Information Shopping" event for all veterans and their spouses or widows. Find out what benefits are available to you! RSVP to Margaret Cox at (636) 923-2356. LSS Meramec Bluffs Senior Living Community is located at 1 Meramec Bluffs Drive, Ballwin MO 63021.
Find more information about LSS on their website.
---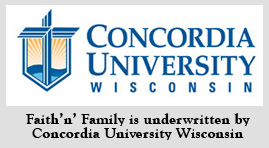 Send in your family questions to Family@kfuo.org or call host Andy Bates at (314) 996-1519 .
---