1. International Student Ministry Thanksgiving Feast
Sharon Riordan, Director of International Student Ministry, talks about the ISM Thanksgiving Feast and what Friendship Families are.
The Thanksgiving Feast will be at Concordia Lutheran Church in Maplewood on November 19th from 12:00 pm – 2:00 pm. Come join for the meal and conversation with international students, or you could donate food for the event. Call Sharon at 314-452-6406 or email ismstlouis@gmail.com.
Learn more about International Student Ministry at ismstl.org.
Join our clean up team after the event is finished.
---

2. Creation Club
Rev. Warren Woerth of Good Shepherd Lutheran Church in Arnold, Missouri, and Andy Bates discuss topics in Creation and dispel myths of the theory of evolution.
---
3. Daily Lectionary
Rev. David Mueller from Trinity Lutheran Church in Goodland and St. John Lutheran Church in Rensselaer, Indiana, studies Matthew 22:23-46.
---
4. Morning Prayer Sermonette
Today's sermonette is given by Rev. David Mueller from Trinity Lutheran Church in Goodland and St. John Lutheran Church in Rensselaer, Indiana.
---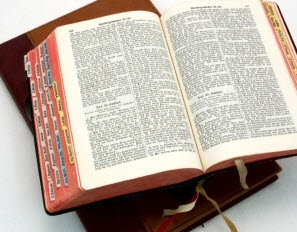 Matthew 22:23-46
Sadducees Ask About the Resurrection
23 The same day Sadducees came to him, who say that there is no resurrection, and they asked him a question, 24 saying, "Teacher, Moses said, 'If a man dies having no children, his brother must marry the widow and raise up offspring for his brother.' 25 Now there were seven brothers among us. The first married and died, and having no offspring left his wife to his brother. 26 So too the second and third, down to the seventh. 27 After them all, the woman died. 28 In the resurrection, therefore, of the seven, whose wife will she be? For they all had her."
29 But Jesus answered them, "You are wrong, because you know neither the Scriptures nor the power of God. 30 For in the resurrection they neither marry nor are given in marriage, but are like angels in heaven.31 And as for the resurrection of the dead, have you not read what was said to you by God: 32 'I am the God of Abraham, and the God of Isaac, and the God of Jacob'? He is not God of the dead, but of the living."33 And when the crowd heard it, they were astonished at his teaching.
The Great Commandment
34 But when the Pharisees heard that he had silenced the Sadducees, they gathered together. 35 And one of them, a lawyer, asked him a question to test him. 36 "Teacher, which is the great commandment in the Law?" 37 And he said to him, "You shall love the Lord your God with all your heart and with all your soul and with all your mind. 38 This is the great and first commandment. 39 And a second is like it: You shall love your neighbor as yourself. 40 On these two commandments depend all the Law and the Prophets."
Whose Son Is the Christ?
41 Now while the Pharisees were gathered together, Jesus asked them a question, 42 saying, "What do you think about the Christ? Whose son is he?" They said to him, "The son of David." 43 He said to them, "How is it then that David, in the Spirit, calls him Lord, saying,
44 "'The Lord said to my Lord,
"Sit at my right hand,
    until I put your enemies under your feet"'?
45 If then David calls him Lord, how is he his son?" 46 And no one was able to answer him a word, nor from that day did anyone dare to ask him any more questions.
English Standard Version (ESV)The Holy Bible, English Standard Version. ESV® Permanent Text Edition® (2016). Copyright © 2001 by Crossway Bibles, a publishing ministry of Good News Publishers.