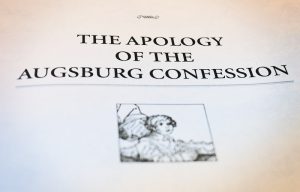 Host Rev. Charles Henrickson and guests Rev. Rolf Preus and Rev. Warren Woerth discuss Article IV: Justification, paragraphs 1-11. Rev. Charles Henrickson is pastor of St. Matthew-Bonne Terre, Missouri. Rev. Rolf Preus is pastor of Trinity Lutheran Church in Sidney and St. John Lutheran Church in Fairview, Montana. Rev. Warren Woerth is pastor of Good Shepherd Lutheran Church in Arnold, Missouri..
Concord Matters is hosted by Rev. Charlie Henrickson, Rev. Joshua Scheer, and Rev. Jonathan Fisk.
Do you have questions about this program? Email Andrew.Bates@kfuo.org or call at (314) 996-1519.