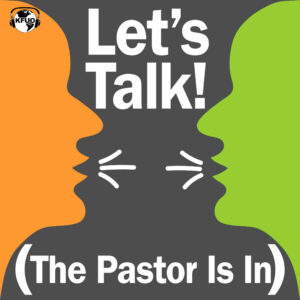 We welcome guest pastor Rev. Mark Preus from St. Andrew's Lutheran Church and Campus Center in Laramie, Wyoming. Learn about St. Andrew's at standrewslaramie.org. Rev. Preus and host Kip Allen dive into the following questions:
Associated Press quote regarding Church of the Holy Sepulchre that houses the tomb from which Jesus rose to heaven.
Why did Jesus descend into hell?
Can anything be done to keep religious reporting truthful?
Is a liberal arts education useful? Find Rev. Preus's suggested book, "The Devil Knows Latin" by E Christian Kopff, at Amazon.com.
What is intelligent design and does it fit with Christian theology?
What is the role of pets? Will we have pets in heaven?
What questions does Pastor Preus get from college students – baptism, order of creation, broken families, career/vocation, etc.
Send us your questions! Email letstalk@kfuo.org with your questions for our guest pastors.
Music for "Let's Talk! The Pastor Is In" is Rev. Fred Baue's rendition of "All Glory, Laud, and Honor" on his album "The Great Dance, Church Music for Guitar." Find this album and more of Rev. Baue's music and books, including his latest, "The Pilgrim" at PergolaPress.com.