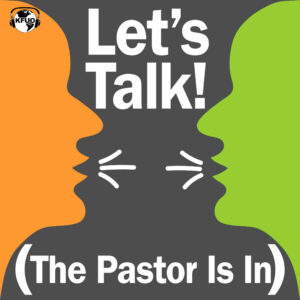 We welcome guest pastor Rev. Andrew Preus from Trinity Lutheran Church in Guttenberg and St. Paul Lutheran Church in McGregor, Iowa. He and host Kip Allen dive into the following questions:
Are dual-parish arrangments like the arrangements years ago with traveling pastors among American settlers?
Who is the Andrew Preus family, and what are your hobbies?
What is the Biblical role of children in the life of a Christian?
Is it sinful for a Lutheran to marry and not want children?
If children are an integral part of marriage, what of older people past child-bearing age marrying?
Does the 4th Commandment still apply to older children?
Is it wrong to remove monuments that honor people in history?
Send us your questions! Email letstalk@kfuo.org with your questions for our guest pastors.
Music for "Let's Talk! The Pastor Is In" is Rev. Fred Baue's rendition of "All Glory, Laud, and Honor" on his album "The Great Dance, Church Music for Guitar." Find this album and more of Rev. Baue's music and books, including his latest, "The Pilgrim" at PergolaPress.com.