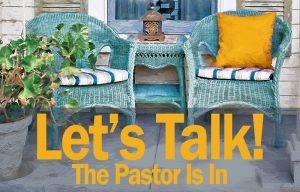 We welcome guest pastor Rev. Wayne Lawrence from St. James Lutheran Church in University City, Missouri. He and host Kip Allen dive into the following questions:
What is the history of St. James in University City?
From listener James: "Any tips for us regular folk in the congregation on getting the most out of hymn singing? I'm not musically-inclined but do enjoy singing. I find myself spending time trying to sing on pitch or correctly singing the melody, rather than focusing on the beautifully rich and meaningful lyrics that fly right by!"
What's the story behind the bell tower at St. James Lutheran Church?
How do you help recovering alcoholics take communion?
Does a Lutheran have to believe in 6-day creation? What is creation vs. intelligent design vs. evolution? Young Earth vs Old Earth?
---
Send us your questions! Email letstalk@kfuo.org with your questions for our guest pastors.
---
Music for "Let's Talk! The Pastor Is In" is Rev. Fred Baue's rendition of "All Glory, Laud, and Honor" on his album "The Great Dance, Church Music for Guitar." Find this album and more of Rev. Baue's music and books, including his latest, "The Pilgrim" at PergolaPress.com.