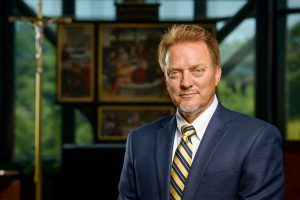 The board of directors for the Lutheran Church – Missouri Synod's new Lutheran Center for Religious Liberty has received a letter from the Rev. Dr. Gregory P. Seltz, who has been the speaker of the Lutheran Hour since 2011, and he's officially accepting his call to be the LCRL's first Executive Director. The LCRL provides input, education, advice, and resources to the areas of marriage, life issues, and religious liberties. It also seeks to actively engage in discussions and establish partnerships as appropriate with individuals and groups in Washington, D.C. After a transition period at Lutheran Hour Ministries and orientation for his new position with the Synod, Dr. Seltz will relocate from St. Louis to head the LCRL office. It's been 17 years since the Synod last had an office and staff in the nation's capital. Rev. Dr. Gregory P. Seltz and Rev. Dr. Matthew C. Harrison join us to talk about this new venture!
Find this story and the latest news on this week's WLN Digest!
---
The World Lutheran News Digest is a Broadcast Ministry of the Lutheran Church–Missouri Synod, produced through the facilities of Worldwide KFUO.
---