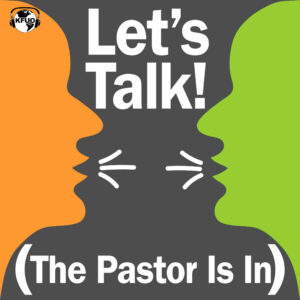 We welcome guest pastor Rev. Mark Hawkinson, Donor Care Coordinator and host of Moments of Assurance on Worldwide KFUO. He, special guest Sarah Gulseth, and host Kip Allen dive into the following questions:
How often does a Christian need to go to church? Does it have to be Sunday?
How often should we go to the Lord's Supper?
How is the liturgy arranged the way it is?
How do we arrive at the church calendar?
Will I be asked hard questions before the Throne of God?
What happens to people who lived before Christ?
What is mission work? How can we witness to our friends?
How can we use social media to witness to our friends?
Send us your questions! Email letstalk@kfuo.org with your questions for our guest pastors.
Music for "Let's Talk! The Pastor Is In" is Rev. Fred Baue's rendition of "All Glory, Laud, and Honor" on his album "The Great Dance, Church Music for Guitar." Find this album and more of Rev. Baue's music and books, including his latest, "The Pilgrim" at PergolaPress.com.