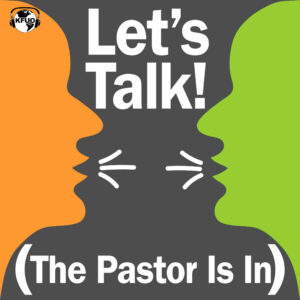 We welcome guest pastor Rev. William Cwirla from Holy Trinity Lutheran Church in Hacienda Heights, California. He and host Kip Allen dive into the following questions:
What is a just war?
What is a Christian's responsibility to the secular world as a soldier?
What about methods that might be immoral that have moral results, i.e. strategic bombing in WW II to end the war, or Sherman's devastation of Georgia that ended the Civil War and slavery?
How do we respond as Lutherans when our non-Lutheran friends say that God speaks to them?
What happened at the recent LCMS Worship Institute held at Concordia University Chicago? What was of interest to the layman?
Send us your questions! Email letstalk@kfuo.org with your questions for our guest pastors.
Music for "Let's Talk! The Pastor Is In" is Rev. Fred Baue's rendition of "All Glory, Laud, and Honor" on his album "The Great Dance, Church Music for Guitar." Find this album and more of Rev. Baue's music and books, including his latest, "The Pilgrim" at PergolaPress.com.