• Download Audio File | Open Player in New Window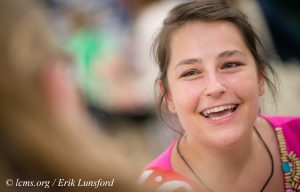 Guests Deaconess Kristin Wassilak, Director, Deaconess Programs Coordinator, Master of Arts in Religion, and Co-Chair of the Department of Theology & Foreign Languages at Concordia University Chicago, and Deaconess Students Irene Swift, Sarah Scungio, Elizabeth Koester, Sarah McPike, Michelle Hennig, Emily Stoller, and Abigail Meyer from the Deaconess Program at CUC talk about their journeys to the program and what they've learned on their international travel. These Deaconess students recently visited missionaries in the Dominican Republic. Seeing missionaries and the local Lutheran church in ministry and mercy in action was formative for the future deaconesses. Learn more about the Deaconess Program at CUC at cuchicago.edu/deaconess.
---
Send in your family questions to Family@kfuo.org or call host Andy Bates at (314) 996-1519.
---