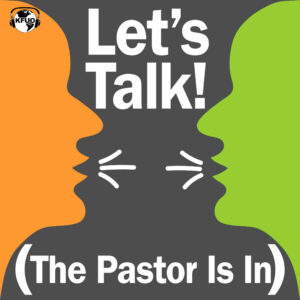 We welcome guest pastor Rev. William Cwirla from Holy Trinity Lutheran Church in Hacienda Heights, California. He and host Kip Allen dive into the following questions:
From listener Bill: What does it mean when Genesis 1 says we're made in the image of God? What happens to the image of God after the fall?
How do we resist over-indulging in First Article gifts?
I know suicide is wrong, but is it okay to tell a elderly loved one that it's okay to let go and die?
Will I recognize my family in heaven? Will I want to see them again?
Will the soul be separated from the body at death? Where does the soul go?
What do we do about people who say they have seen glimpses of heaven in near-death (or clinical death) experiences?
Send us your questions! Email letstalk@kfuo.org with your questions for our guest pastors.
Music for "Let's Talk! The Pastor Is In" is Rev. Fred Baue's rendition of "All Glory, Laud, and Honor" on his album "The Great Dance, Church Music for Guitar." Find this album and more of Rev. Baue's music and books, including his latest, "The Pilgrim" at PergolaPress.com.