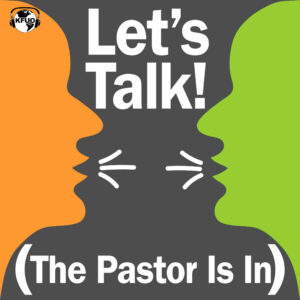 We welcome guest pastor Rev. Mark Hawkinson, Donor Care Coordinator and host of Moments of Assurance on Worldwide KFUO. Today's program is a rebroadcast from April 28, 2017. He and host Kip Allen dive into the following questions:
How do I tell my non-LCMS friends that they can't take communion with me?
From listener Jeff: "Why do LCMS minsters refer to themselves sometimes as Pastor and sometimes as Reverend?"
From listener James: "What is the danger of giving more authority to the office of the ministry or the voter's assembly than scripture affords?"
From listener Robert: "I heard an argument that Jesus could not be Messiah, because he would need a blood relation to David. Due to Jesus's virgin birth, there's no blood relation. How do we respond to that?"
From listener Bill: "If someone is convicted of a serious crime and sentenced to death, but an innocent person dies for that person, on a natural level that's a double injustice. How do I justify that in my mind, with Jesus's innocent death for my guilt?"
From listener James: "Talk about the parable of the frogs and the duck, that Pastor Hawkinson talked about on the Lutheran Hour some years ago."
What are angels?
What is the fate of those who commit suicide?
Send us your questions! Email letstalk@kfuo.org with your questions for our guest pastors.
Music for "Let's Talk! The Pastor Is In" is Rev. Fred Baue's rendition of "All Glory, Laud, and Honor" on his album "The Great Dance, Church Music for Guitar." Find this album and more of Rev. Baue's music and books, including his latest, "The Pilgrim" at PergolaPress.com.