"Yes, LCMS Campus Ministry in non-Lutheran Areas Matters!" with Rev. Mark Schroeder of Buena Vista, Virginia. Pastor Schroeder is the pastor at Concordia Lutheran Mission, serving students at Washington & Lee University and the Virginia Military Institute. Read more about Concordia Lutheran Mission at concordiaandkoinonia.wordpress.com.
Left image: Two cadets in front of Ben Salem Presbyterian, the worship site for Concordia Lutheran Mission. Left, Cadet James Mansfield, the author of the text I read in the interview;  right, Cadet Griffin Rasnake.
Right image: Cadet Heather Brown showing off her VMI ring. The banner was made by her Grandmother, Vicky (Waco, TX) for her Confirmation.
---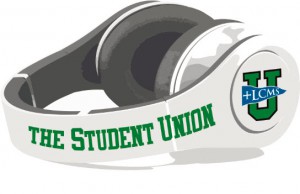 The Student Union is a show for college students, as well as all those who work with, love, and care for them. Join us each week as we explore the many and diverse issues that college students face as well as offer ideas and support for everyone engaged in campus ministry in and around the collegiate community.
---
Host Rev. Marcus Zill is the Director of Campus Ministry & LCMS U  for The Lutheran Church—Missouri Synod's (LCMS). Learn more about LCMS Campus Ministry at www.lcms.org/lcmsu. The Student Union is produced by LCMS U through the LCMS Office of National Mission.