Love Thy Muslim Neighbor: Choosing Compassion Over Conflict as Committed Christians
When you hear the word "Islam" or see a Muslim, what images, thoughts, or feelings come to mind? Too often, Christians are filled with distrust, fear, and hate toward their Muslim neighbors. This session provides a primer on why Christians are called to love their Muslim neighbors, what that looks like in a world of conflict, and how you can start doing so as an individual or a church community today.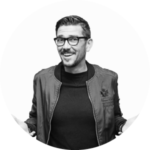 Bio: Ken thinks religion is cool. Interesting. Diverse. He also thinks learning about religion is so important that he dedicated his life to it — studying theology, teaching religious studies, and writing on the topic of religion and spirituality in newspapers and magazines across the world. This summer, Ken is traveling through the U.S. with his wife Paula and hanging out at the NYG with cool kids like you before moving to Germany in August.
---
Youth and adult sessions recorded at the 2019 LCMS Youth Gathering in Minneapolis, Minnesota. For more information about the Gathering, visit www.lcmsgathering.com.