From Lutheran School to the NBA
What is it like to play your favorite sport at the highest level? How do you stay strong in your faith in the midst of so much travel, media, and outside pressures? What do you eat on "cheat day"? Sam will answer these questions and more as he shares how God has been preparing him even since he was a young boy in Lutheran School to be a witness on and off the basketball court.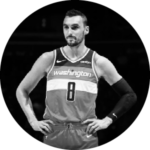 Bio: An 18th overall pick in the 2015 NBA draft, Sam Dekker is a fast pace, small forward for the Washington Wizards. Dekker is a University of Wisconsin alumni that earned his stripes after being named the Wisconsin Gatorade "Player of the Year", Parade All American, AP First-Team All-State and Wisconsin Basketball Coaches Association's "Mr. Basketball" award. Dekker and his wife, Olivia Harlan-Dekker believe in good faith and the balance of family, religion and their careers.
---
Youth and adult sessions recorded at the 2019 LCMS Youth Gathering in Minneapolis, Minnesota. For more information about the Gathering, visit www.lcmsgathering.com.