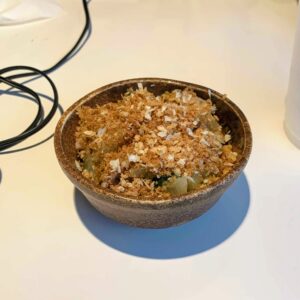 Looking for a savory new casserole to add to your fall potluck lineup? Look no further than Erin's Recipe Card.
In this episode, the ladies bake up and try an Erin original: Spaghetti Squash Casserole with spicy sausage, kale and a crispy Parmesan crumb topping. With vegetarian, gluten-free, dairy-free and allergy- and intolerant-friendly variations all possible, this healthy and easily customizable recipe is sure to become a side-dish staple in a church basement near you.
---
Connect with the Lutheran ladies on social media in The Lutheran Ladies' Lounge Facebook discussion group (facebook.com/groups/LutheranLadiesLounge) and follow Sarah (@mrsbaseballpants), Rachel (@rachbomberger), Erin (@erin.alter), and Bri (@grrrzevske) on Instagram.
---
Spaghetti Squash Casserole
Serves 8-12
Created by Erin Alter for The Lutheran Ladies' Lounge.
Ingredients
2 spaghetti squashes- each about 6-8 inches long
1 medium/large onion, diced
2-3 cloves garlic, minced
1 teaspoon Herbes de Provence
2 bunches kale, chopped
5 tablespoons Olive oil, divided
1 pound Italian sausage, spicy recommended
½ cup grated Parmesan cheese, divided
½ cup bread crumbs
Salt and pepper
Instructions
Cut spaghetti squashes in half, scrape out seeds, rub with a little bit of olive oil, and roast cut-side down at 400° for 40 to 60 minutes until tender. (You'll know it is done when it is Very Easy to shred the flesh into strands. It might need longer if your squashes are larger.)
While the squash is roasting, take a walk and then sauté the onion, garlic, and Herbes de Provence in 4 tablespoons olive oil. Once the onion is soft, add half the kale and sauté until bright green and tender. Set aside.
Brown the sausage. Once the sausage is browned, add the remaining kale and sauté until bright green and tender. Add to the reserved vegetables.
When the squash is tender, use a fork to remove the flesh and separate the strands. Mix it together with the vegetables and sausage. Stir in ¼ cup of the Parmesan cheese. Adjust for salt and pepper.
Place everything in a casserole dish. Combine the remaining ¼ cup Parmesan cheese with the bread crumbs and 1 tablespoon olive oil. Sprinkle over the casserole. If the casserole is still quite hot from cooking the food, bake at 375° for 15 minutes, or until browned. If you took a break and are baking this after it has cooled considerably, it will need longer. Eyeball it.
Options
Swap out the Herbes De Provence for any herb blend you enjoy.
If you can't find spicy Italian sausage, or if you enjoy a little extra kick, add some crushed red pepper flakes to give it a little more get up and go.
Want to make it vegetarian? Leave out the sausage and consider adding a can of drained/rinsed garbanzo beans.
Gluten free? Consider using ground almonds or crushed potato chips, or search out gluten free bread crumbs. Don't forget to check the sausage that you choose, to make sure it is gluten free.
---
The Lutheran Ladies Lounge is the podcast produced by KFUO Radio and hosted by Sarah Gulseth, Erin Alter, Rachel Bomberger, and Bri Gerzevske. Created for Lutheran ladies to have a place to escape to with inviting conversations, laughter, and fellowship with Lutheran sisters, we invite all of you Lutheran ladies to join Sarah, Erin, Rachel, and Bri on the sofa in the Lutheran Ladies Lounge to sit, rest your feet, and stay a while. If you're a Lutheran lady, join us in our Facebook group: facebook.com/groups/LutheranLadiesLounge.