Who Actually Cares about Jesus? My friends don't.
Honestly, most of my friends don't seem interested in Jesus. Maybe that's OK because sometimes I'm not so big on talking about Jesus with them anyway. Do you ever feel this way? If so, come discover a brand new tool called "The Curve". This simple tool can help us experience first-hand how God can use even reluctant witnesses like us to do what He does best—bring good news to those who need it.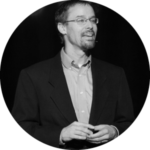 Bio: Don Everts is an award-winning author of more than a dozen books about Jesus of Nazareth and the adventure of being one of his disciples. As a college minister, ordained pastor, and friendly neighbor, Don has been getting into conversations about Jesus for over 25 years. Don is a writer for Lutheran Hour Ministries and his latest good, The Reluctant Witness: Discovering the Delight of Spiritual Conversations has just been released.
---
Youth and adult sessions recorded at the 2019 LCMS Youth Gathering in Minneapolis, Minnesota. For more information about the Gathering, visit www.lcmsgathering.com.