Broken: The Collateral Damage of Divorce
50% of couples in the United States divorce. Do you know what the means? 50% or more of children have parents who are divorced. How do we talk about it? How do we navigate being children of divorce? Perhaps the bigger question is: How do we make sure that our future marriages don't end in brokenness?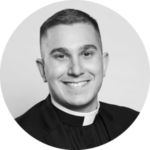 Bio: Travis Ferguson serves as Pastor of Family Connections at Christ Lutheran Church in La Mesa, CA. In addition to being a pastor, he is also a chaplain in the United States Air Force, and has had extensive experience in emergency services chaplaincy. Coming from a broken family and having a very "spotty" past, he looks to help encourage others who are experiencing "the crap" life dishes out.
---
Youth and adult sessions recorded at the 2019 LCMS Youth Gathering in Minneapolis, Minnesota. For more information about the Gathering, visit www.lcmsgathering.com.