Real. Talk.
To "love your neighbor as yourself" can be great, but it can also be REALLY tough. What if you're first struggling to love God? What if you aren't great at loving yourself? What if you have some serious "beef" that you need to squash with your friends, your family, or others in your life? Let's join together for some 'real talk' about how to handle conflict and to experience our "Real. Present. God." in reconciliation.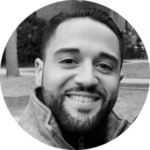 Bio: Matthew Ryan González is the pastor at Trinity Evangelical Lutheran Church in The Bronx, NY and a former Adjunct Professor at Concordia College—New York. "Pastor G." is a 'die-hard' Yankees fan, avid sports aficionado, and a recreational singer and musician. Most importantly, he spends his time doing his best to be a loving husband to his beautiful wife, Katie, and a loving father to his great children, Phoebe and Aaron.
---
Youth and adult sessions recorded at the 2019 LCMS Youth Gathering in Minneapolis, Minnesota. For more information about the Gathering, visit www.lcmsgathering.com.