From the Streets to the Sanctuary
Hope comes in many forms sometimes in the darkest places it hard to see the hope of Christ. Carl Johnson is a carrier of hope coming from growing up in the inner city of New Jersey and Atlanta. He was gang-involved to homeless. This is a story that will show anyone the power of Christ in the darkest places.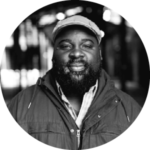 Bio: Carl is a Father, Husband, and church planter. Carl has a mission to abolish food insecurity in major cities starting with St. Paul believing that race and economic justice is tied to food. He is a pastor in the twin cities and appointed committee member in the City of St. Paul of Food and Nutrition. He is on the leadership team of Mission St. Paul, a gathering of St. Paul pastors that promote unity in the city of St. Paul.
---
Youth and adult sessions recorded at the 2019 LCMS Youth Gathering in Minneapolis, Minnesota. For more information about the Gathering, visit www.lcmsgathering.com.