Real God or "man-made" god?
Do Mormons really believe in Jesus Christ?  Pastor Jack will explain differences between beliefs of The Church of Jesus Christ of Latter-Day Saints (Mormon) and Lutheran Christianity.  You've seen missionaries in your community, riding on bicycles and talking to people about their faith or even know some Mormons, but what do you know about their faith?  Pastor Jack invites you to share his experience about Mormon faith and his personal journey to the Real Christ.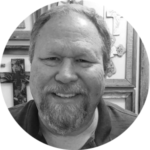 Bio: Rev. Jack Onkka has truly gone from law to gospel after spending 30 years in law enforcement and being ordained in 2013.  He has been married to Amy for 35 years and they have two children, Megan (Johnathan) and Ryan.  Jack is the Pastor at Christ Our Savior Lutheran Church in Panama City Beach, Florida.  After spending many years as a Mormon he is excited to share his faith journey from Mormonism to Christianity (Lutheran).
---
Youth and adult sessions recorded at the 2019 LCMS Youth Gathering in Minneapolis, Minnesota. For more information about the Gathering, visit www.lcmsgathering.com.