Mark and Julianna interview Rev. Michael Salemink who serves as the executive director of Lutherans for Life. They discuss his study "Real. Present. God. in Life Issues" and how young people can be drawn into important discussions around the sanctity of life. Find the LCMS Youth Ministry resource website at youthesource.com. Learn more about Lutherans for Life at lutheransforlife.org.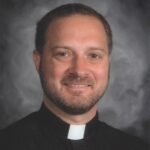 Bio: Rev. Michael W. Salemink has served as the executive director of Lutherans For Life since 2016. He has degrees from Concordia University Chicago and Concordia Theological Seminary, Fort Wayne, Indiana. He has served as a parish pastor in Minnesota and Indiana. He now lives with his wife, Heather, and family in St. Louis, Missouri. Beyond his regular career duties he has also been active as a relationship counselor, fatherhood mentor, and abstinence educator. He also has served on the board of a local pregnancy resource center. He embraces the opportunity to speak truth, especially in the middle of controversy, and show love, especially in crisis.
---
End Goals is the podcast of LCMS Youth Ministry in the Office of National Mission. LCMS Youth Ministry Staff discuss practices for healthy youth ministry and interview practitioners who provide insight for experienced and new youth leaders.