"Another year is dawning," says the hymn-writer. We have music appropriate for turning the calendar. Settings of Psalm 90, along with some rarely-heard New Year carols, make for an enriching hour. Plus, it's still the Christmas season! We haven't put all those carols away just yet. Merry Christmastide!
---
Music List
THEME: CBS MDK 44651
JOHANN SEBASTIAN BACH: "My Spirit Be Joyful" from Cantata 146
Philharmonia Virtuosi of New York/Richard Kapp
Argo 414609-2 (2'55)
CROFT/ISAAC WATTS: O God, Our Help in Ages Past
King's College Choir. Cambridge/Stephen Cleobury
ABC Classics 476 6906 "VAUGHAN WILLIAMS" (8:48)
VAUGHAN WILLIAMS: Lord, Thou hast been our Refuge (Psalm 90)
Choir of Trinity College, Melbourne, Austrailia/Michael Leighton Jones
BSSL "Gloria" (3'40)
STEPHEN MAGER: Here is Joy for Every Age
Archdiocesan Children's Choir; Bach Soc St.Louis Orch/ John Romeri
Collegium COLCD 111 / 107 3:31
BENJAMIN BRITTEN: A New Year Carol (2'15)
WILLIAM WALTON: What cheer? (1'16)
The Cambridge Singers/John Rutter
"Holiday Brass Encore" (4'37)
arr. MARY MCDONALD: Joyful, All Ye Nations, Rise!
Manchester UMC Chancel Choir/Kevin McBeth
NLCA-162 "A Holy Solemnity" (1'07)
PAUL TCHESNOKOV: The Angel's Song
National Lutheran Choir/Karl Erickson
Collegium 306 "Christmas Star/Christmas Festival" (6'30)
arr. MICHAEL NEAUM: Gaudete (Rejoice!) (1'49)
JOHN RUTTER: Rejoice and Be Merry (2'36)
arr. RUTTER: How Great Our Joy (2'05)
Cambridge Singers & Orch/John Rutter
London 417 449-2 "Messiah" (4'21)
GEORGE FREDERICK HANDEL: "Rejoice Greatly" from Messiah
Kiri Te Kanawa, soprano; Chicago Sym Orch/Sir Georg Solti
Hyperion CDA66420 "Vaughan Williams" (12'26)
RALPH VAUGHAN WILLIAMS: Fantasia on Christmas Carols
Corydon Singers; English Chamber Orch/Matthew Best
Thomas Allen, baritone soloist
THEME
---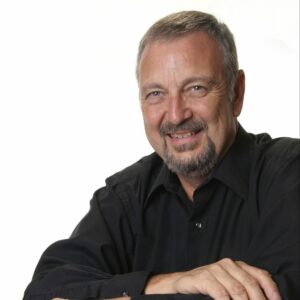 About the host: Ron Klemm's radio career has spanned six decades. He came to KFUO in 1978, serving as Program Director and then Operations Manager for the former CLASSIC 99 and CLASSIC99.com (KFUO-FM), before retiring in 2013.
Past President of the Classical Music Broadcasters Association, a national organization of classical music broadcasters, Ron was—and continues to be—a champion for the arts in Saint Louis. Among other organizations, Klemm was the voice of the Saint Louis Symphony live broadcasts and concert previews.
Ron's greatest love is church music and sacred classics. Klemm established the program JOY in mid-80s, an hour that became one of St. Louis's longest running musical programs, continuing for two additional years on CLASSIC99.com after the sale of KFUO-FM in 2010.
Contact Ron via email: JOY@KFUO.org
---
Described as an hour featuring the "JOY expressed in some great music," Ron Klemm weaves sacred classics from history's finest composers, together with sparkling arrangements of hymns and church anthems, into a colorful fabric of musical delight. Brief, heartfelt commentary focuses the listener's attention on the text: some in familiar settings, others not as well known. Ron's experience with and love for classical and church music makes for an inspiring hour of priceless musical gems.
Special JOY programs air from 1:00 – 2:00 p.m. Central from Thanksgiving 2019 through Epiphany 2020.
Thursday, November 28: "Thanksgiving"
Friday, November 29: Encore of "Thanksgiving"
Wednesday, December 4: "O Come, O Come, Emmanuel"
Wednesday, December 11: "Messiah"
Wednesday, December 18: "The Song of Mary"
Tuesday, December 24: "Joy to the World!"
Wednesday, December 25: Encore of "Joy to the World!"
Wednesday, January 1: New Year's Day
Monday, January 6: Epiphany