What is "Epiphany?" We'll answer that question through music, with an hour of marvelous music about the Magi. Plus, we found a rare old recording featuring members of the military singing about Epiphany. Politically impossible today, it's a glorious homage and a delightful surprise. Bring the gift of your time and join us!
---
Music List
THEME: CBS MDK 44651
JOHANN SEBASTIAN BACH: "My Spirit Be Joyful" from Cantata 146
Philharmonia Virtuosi of New York/Richard Kapp
WCC 014 "Christmas at Westminster" (1'57)
arr. DOBRINSKI: We Three Kings
Westminster Concert Bell Choir/Kathleen Ebling Shaw
Collegium 503 "Christmas Star" (4'58)
arr. RUTTER: Three Kings of Orient
Cambridge Singers & Orchestra/John Rutter
d'Note DND 1015 "Carols for Christmas" (6:35)
STEPHEN PAULUS: How Far Is It to Bethlehem? (2:45)
arr. PAULUS: O Little Town of Bethlehem (3:50)
Dale Warland Singers/Dale Warland
NLCA-32 "Infant, Holy" (3'28)
HEALEY WILLAN: The Three Kings
National Lutheran Choir/Larry L. Fleming
"Holiday Brass" (3'03)
arr. LEROY ANDERSON: We Three Kings of Orient Are
Holiday Brass Ensemble of St. Louis/Susan Slaughter
CONIFER CLASSICS 75605 51256 2 "In Dulci Jubilo" (3'50)
MICHAEL PRAETORIUS: Wie schon leuchet (How Brightly Shines
the Morning Star, first verse)
Choir of Trinity College, Cambridge/Richard Marlowe
Classic FM Records CFM CD 11 "Classic Carols" (2'22)
PETER CORNELIUS: The Three Kings
Choir of Kings College, Cambridge/Stephen Cleobury
BSSL 2018 "Joy to the World" (4'59)
JOHN RUTTER: Carol of the Magi
Bach Society of St. Louis Chorus & Orch/A Dennis Sparger
Elizabeth Macdonald, cello
Teldec 4509-94563-2 "Sing We Christmas" (4'03)
TOMAS LUIS de VICTORIA: O magnum mysterium
Chanticleer/Joseph Jennings
NLC-162 "A Holy Solemnity" (6'17)
MORTEN LAURIDSEN: O magnum mysterium
National Lutheran Choir/Rene Clausen
Altissimo ALT 56002 "The Wonder of Christmas" (6'48)
FLOYD E. WERLE: The Wonder of Christmas: Epiphany
U.S. Air Force Band; Singing Sergeants/Col. Arnald D. Gabriel
THEME
---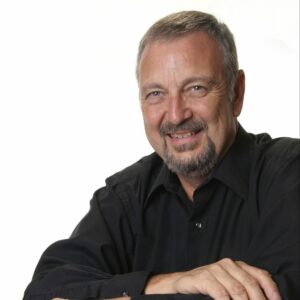 About the host: Ron Klemm's radio career has spanned six decades. He came to KFUO in 1978, serving as Program Director and then Operations Manager for the former CLASSIC 99 and CLASSIC99.com (KFUO-FM), before retiring in 2013.
Past President of the Classical Music Broadcasters Association, a national organization of classical music broadcasters, Ron was—and continues to be—a champion for the arts in Saint Louis. Among other organizations, Klemm was the voice of the Saint Louis Symphony live broadcasts and concert previews.
Ron's greatest love is church music and sacred classics. Klemm established the program JOY in mid-80s, an hour that became one of St. Louis's longest running musical programs, continuing for two additional years on CLASSIC99.com after the sale of KFUO-FM in 2010.
Contact Ron via email: JOY@KFUO.org
---
Described as an hour featuring the "JOY expressed in some great music," Ron Klemm weaves sacred classics from history's finest composers, together with sparkling arrangements of hymns and church anthems, into a colorful fabric of musical delight. Brief, heartfelt commentary focuses the listener's attention on the text: some in familiar settings, others not as well known. Ron's experience with and love for classical and church music makes for an inspiring hour of priceless musical gems.
Special JOY programs air from 1:00 – 2:00 p.m. Central from Thanksgiving 2019 through Epiphany 2020.
Thursday, November 28: "Thanksgiving"
Friday, November 29: Encore of "Thanksgiving"
Wednesday, December 4: "O Come, O Come, Emmanuel"
Wednesday, December 11: "Messiah"
Wednesday, December 18: "The Song of Mary"
Tuesday, December 24: "Joy to the World!"
Wednesday, December 25: Encore of "Joy to the World!"
Wednesday, January 1: New Year's Day
Monday, January 6: Epiphany