A Person's A Person, No Matter How Small
Using captivating full-color, three-dimensional computer animation, we'll explore the biological science of how God knits human beings together in utero. Then we'll apply observe how this applies to conversations about the sanctity of life – not just the development of embryos and fetuses, but the rest of us too!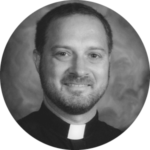 Bio: Rev. Michael W. Salemink began serving as executive director of Lutherans For Life in January 2016. He graduated from Concordia University, River Forest, and Concordia Theological Seminary, Fort Wayne. He has served congregations in Minnesota and Indiana. Pastor Salemink resides in St. Louis with his wife of 19 years (Heather) and their three sons (Christian, Nathan, and Luke). Pastor Salemink writes regularly and speaks nationwide equipping Lutherans to be Gospel-motivated voices for life.
---
Youth and adult sessions recorded at the 2019 LCMS Youth Gathering in Minneapolis, Minnesota. For more information about the Gathering, visit www.lcmsgathering.com.