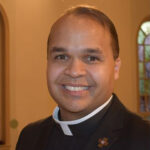 Rev. Dr. Dien Ashley Taylor, pastor of Redeemer Evangelical Lutheran Church in The Bronx, New York, and First vice president of the LCMS Atlantic District, joins Andy and Sarah to talk about how Redeemer Evangelical Lutheran Church reachs and servse the diverse Bronx community, what he'll be sharing at the Concordia University Nebraska celebration of the life and work of Dr. Martin Luther King, Jr., and why it's important to remember his work today. Read about this celebration at cune.edu/news/rev-dr-dien-ashley-taylor-present-part-martin-luther-king-jr-celebration. Learn more about Redeemer in The Bronx at redeemerlutheranbronx.org.
---
The Coffee Hour is underwritten by Concordia University Wisconsin. Live Uncommon. Learn more at cuw.edu.
Have a topic you'd like to hear about on The Coffee Hour? Contact Andy Bates at andrew.bates@kfuo.org or call 314-996-1519.