The season of Lent is upon us: a time of penitence and prayer, of meditation and remembrance. Handel's beloved "Messiah" provides a musical focus on the "Lamb of God, who taketh away the sin of the world." We'll share selections from the Lenten portion of this timeless classic.
---
Music List
THEME: CBS MDK 44651
JOHANN SEBASTIAN BACH: "My Spirit Be Joyful" from Cantata 146
Philharmonia Virtuosi of New York/Richard Kapp
1. Sony BMG 82876-72039-2 "Handel Messiah" 2'47
GEORGE FRIDERIC HANDEL: Behold the Lamb of God from "Messiah"
Concentus Musicus Wien/Nikolaus Harnoncourt
2. BSSL 2008 "Great and Marvelous" 5'22
JOHN STAINER: God So Loved the World
The Bach Society of Saint Louis/A. Dennis Sparger
3. NLCA 02022 "Eternity" 2'05
F. MELIUS CHRISTIANSEN: Lamb of God
National Lutheran Choir/David Cherwien
4. "Morning by Morning" 2'45
BRADBURY arr. MAZZONI: Just As I Am
Jennifer Mazzoni, flute; Matthew Mazzoni, piano
5.  Angel 2435 55064 2 "Hymn"
TWILA PARIS arr. Ronn Huff: Lamb of God 3'41
Twila Paris, vocalist; American Boychoir & St. Luke's Chamber Ensemble/James Litton
6.  GIA CD-260 "Proulx Conducts Proulx" 2'02
FRANZ SCHUBERT arr. Richard Proulx: Agnus Dei from German Mass
Cathedral Singers/Richard Proulx
7. Telarc CD-80135 6'02
GABRIEL FAURE: Agnus Dei from Requiem, Op. 48
Atlanta Symphony Orchestra & Chorus/Robert Shaw
8.  Telarc CD-80458 4'51
FRANCIS POULENC: Agnus Dei from Mass in G Major
Donna Carter, soprano; Robert Shaw Festival Singers/Robert Shaw
9.  EMI 0946 3 53244 23'39
KARL JENKINS: Agnus Dei from The Armed Man
National Youth Choir of Great Britain; London Philharmonic/Karl Jenkins
10. Philips 434 695-2 15'52
G.F. HANDEL: Messiah, excerpts from Part II
He was despised (9'27), Surely He hath borne our griefs (1'53),
And with His stripes we are healed (1'36), All we like sheep (2'56)
Anne Sofie von Otter, contralto; Academy and Chorus of
St. Martin-in-the-Fields/Sir Neville Marriner
THEME
---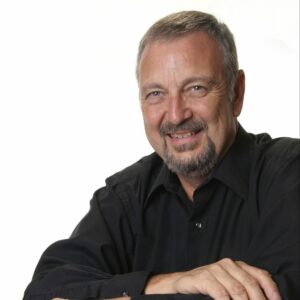 About the host: Ron Klemm's radio career has spanned six decades. He came to KFUO in 1978, serving as Program Director and then Operations Manager for the former CLASSIC 99 and CLASSIC99.com (KFUO-FM), before retiring in 2013.
Past President of the Classical Music Broadcasters Association, a national organization of classical music broadcasters, Ron was—and continues to be—a champion for the arts in Saint Louis. Among other organizations, Klemm was the voice of the Saint Louis Symphony live broadcasts and concert previews.
Ron's greatest love is church music and sacred classics. Klemm established the program JOY in mid-80s, an hour that became one of St. Louis's longest running musical programs, continuing for two additional years on CLASSIC99.com after the sale of KFUO-FM in 2010.
Contact Ron via email: JOY@KFUO.org
---
Described as an hour featuring the "JOY expressed in some great music," Ron Klemm weaves sacred classics from history's finest composers, together with sparkling arrangements of hymns and church anthems, into a colorful fabric of musical delight. Brief, heartfelt commentary focuses the listener's attention on the text: some in familiar settings, others not as well known. Ron's experience with and love for classical and church music makes for an inspiring hour of priceless musical gems.