Mark and Julianna interview Rev. Dr. Chitwood about how we can engage young people in meaningful conversations about events and worldviews that shape the world around them.  As we face the complexity of world events together, we cling to God's Word and encourage each other to thrive in our faith and share the love of Jesus with all people. Find the LCMS Youth Ministry resource website at youthesource.com and find all things by Pastor Chitwood at kenchitwood.com.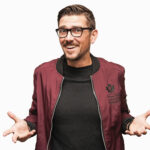 Bio: Ken thinks religion is cool. Interesting. Diverse. He also thinks learning about religion is so important that he dedicated his life to it — studying theology, teaching religious studies, and writing on the topic of religion and spirituality in newspapers and magazines across the world. This summer, Ken is traveling through the U.S. with his wife Paula and hanging out at the Gathering with cool kids like you before moving to Germany in August. 
---
End Goals is the podcast of LCMS Youth Ministry in the Office of National Mission. LCMS Youth Ministry Staff discuss practices for healthy youth ministry and interview practitioners who provide insight for experienced and new youth leaders.