It's easy to say all the right words and pray the right prayers when everything's "just fine." But what happens when tragedy strikes, such as the death of a child—or three, as in the case of composer Antonín Dvořák? God's grace is truly amazing! We'll share some music born of inner joy and strength.
---
Music List
THEME: CBS MDK 44651
JOHANN SEBASTIAN BACH: "My Spirit Be Joyful" from Cantata 146
Philharmonia Virtuosi of New York/Richard Kapp
1.  Concordia CPH 99-1676 "Christ Be Our Seed"6'19
CARL F. SCHALK: Be Known to Us, Lord Jesus
American Repertory Singers & Washington Symphonic
Brass/Leo Nestor
2.  EMI Classics 7243 5 69748 2 1 "Spiritus – At Heaven's Gate"7'47
FRANZ JOSEPH HAYDN: Kyrie, from the Lord Nelson Mass
Staatskapelle Dresden & Rundfunkchor Leipzig/Neville Marriner
WOLFGANG AMADEUS MOZART: Ave verum corpus
Stockholm Chamber Choir & Berliner Phil/Ricardo Muti
3.  National Lutheran Choir Recordings NLCA-22 "Trinity"6'21
JOHN GOSS: If We Believe (3'37)
NORMAN LUBOFF: All My Trials (2'44)
The National Lutheran Choir/Larry L. Fleming
4. Musikfest (DG) 413 671 2 "The Heavens Are Sounding"7'05
GEORGES BIZET: Agnus Dei (3'20)
FRANZ SCHUBERT: Sanctus, from the German Mass in F (3'45)
Berlin Handel Chorus & Berlin Radio Symphony Orchestra/Günther Arndt
5.  hänssler CD 98.93520'44
ANTONIN DVORAK: Stabat mater dolorosa, from Stabat Mater
Oregon Bach Festival Orchestra and Choir/Helmut Rilling; Marina
Shaguch, Ingeborg Danz, James Taylor, Thomas Quasthoff
THEME
---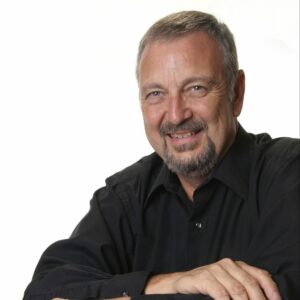 About the host: Ron Klemm's radio career has spanned six decades. He came to KFUO in 1978, serving as Program Director and then Operations Manager for the former CLASSIC 99 and CLASSIC99.com (KFUO-FM), before retiring in 2013.
Past President of the Classical Music Broadcasters Association, a national organization of classical music broadcasters, Ron was—and continues to be—a champion for the arts in Saint Louis. Among other organizations, Klemm was the voice of the Saint Louis Symphony live broadcasts and concert previews.
Ron's greatest love is church music and sacred classics. Klemm established the program JOY in mid-80s, an hour that became one of St. Louis's longest running musical programs, continuing for two additional years on CLASSIC99.com after the sale of KFUO-FM in 2010.
Contact Ron via email: JOY@KFUO.org
---
Described as an hour featuring the "JOY expressed in some great music," Ron Klemm weaves sacred classics from history's finest composers, together with sparkling arrangements of hymns and church anthems, into a colorful fabric of musical delight. Brief, heartfelt commentary focuses the listener's attention on the text: some in familiar settings, others not as well known. Ron's experience with and love for classical and church music makes for an inspiring hour of priceless musical gems.