In one sense, all these presentations, all these hours of music since Ash Wednesday have led us to this moment—at the foot of the cross. "Ah, holy Jesus. . .Were the whole realm of nature mine, that were a present far too small."  Hymn writer Isaac Watts cries out our only possible response: "Love—so amazing, so Divine—demands my soul, my life, my all."
Image: The crucifix at Paul-Gerhardt Gemeinde, a SELK Lutheran church in Braunschweig, Germany, on Thursday, Nov. 12, 2015. LCMS Communications/Erik M. Lunsford
---
Music List
THEME: CBS MDK 44651
JOHANN SEBASTIAN BACH: "My Spirit Be Joyful" from Cantata 146
Philharmonia Virtuosi of New York/Richard Kapp
1.  Deutsche Harmonia Mundi 82876-72039-2 "Handel Messiah" 2:47
GEORGE FRIDERIC HANDEL: Behold the Lamb of God from "Messiah"
Arnold Schoenberg Choir; Concentus Musicus Wien/Nikolaus Harnoncourt
2.  Deutsche Harmonia Mundi 82876-72039-2 "Handel Messiah" 18:16
HANDEL: (from "Messiah") He Was Despised; Surely He Hath Borne Our Griefs;
And with His Stripes We Are Healed; All We Like Sheep Have Gone Astray
Arnold Schoenberg Choir; Concentus Musicus Wien/Nikolaus Harnoncourt;
Anna Larsson, alto
3. Bethel College BCCD-9901 "Ah, Holy Jesus"  5:16
arr. JOHN FERGUSON: Ah, Holy Jesus
Lynda Bradley-Vacco, viola; Bethel College Choir (MN)/Dennis W. Port
4. (same as above)  4:32
ADOLPHUS HAILSTORK: Crucifixion
Bethel College Choir (MN)/Dennis W. Port
5. Exultate EX-51 "The Seven Last Words of Christ"  6:16
THÉODORE DUBOIS: Seventh Word from "The Seven Last Words of Christ"
Exultate Choir and Orchestra/Thomas D. Rossin
6. Concordia Recordings E-2764 "Endless Your Grace"  4:02
arr. F. MELIUS CHRISTIANSEN: Beautiful Savior
Concordia Choir/Rene Clausen; Kristi Erickson, soloist
7. Decca B0004531-02 "Renaissance / Music for Inner Peace"  3:00
ANTONIO LOTTI: Crucifixus
The Sixteen/Harry Christophers
8. National Lutheran Choir Recordings NLCA-92 "A New Song" 6:03
SAMUEL BARBER: Lamb of God (Agnus Dei)
National Lutheran Choir/Larry L. Fleming
9. Bach Society of Saint Louis BSSL-2008 "Great and Marvelous" 4:40
arr. GILBERT MARTIN: When I Survey the Wondrous Cross
Bach Society of Saint Louis/A. Dennis Sparger
THEME
---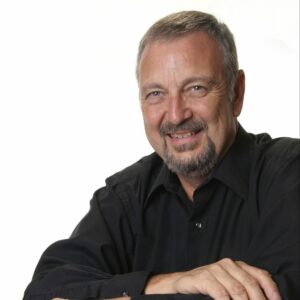 About the host: Ron Klemm's radio career has spanned six decades. He came to KFUO in 1978, serving as Program Director and then Operations Manager for the former CLASSIC 99 and CLASSIC99.com (KFUO-FM), before retiring in 2013.
Past President of the Classical Music Broadcasters Association, a national organization of classical music broadcasters, Ron was—and continues to be—a champion for the arts in Saint Louis. Among other organizations, Klemm was the voice of the Saint Louis Symphony live broadcasts and concert previews.
Ron's greatest love is church music and sacred classics. Klemm established the program JOY in mid-80s, an hour that became one of St. Louis's longest running musical programs, continuing for two additional years on CLASSIC99.com after the sale of KFUO-FM in 2010.
Contact Ron via email: JOY@KFUO.org
---
Described as an hour featuring the "JOY expressed in some great music," Ron Klemm weaves sacred classics from history's finest composers, together with sparkling arrangements of hymns and church anthems, into a colorful fabric of musical delight. Brief, heartfelt commentary focuses the listener's attention on the text: some in familiar settings, others not as well known. Ron's experience with and love for classical and church music makes for an inspiring hour of priceless musical gems.