Whether you're squeezing in one last late-season barbecue, enjoying a traditional Oktoberfest celebration, or preparing for a Reformation festival, Erin's latest Recipe Card episode — celebrating the humble potato salad — is a must-listen culinary conversation.
Sampling both German and American potato salad recipes, the Ladies explore the history, nutrition, and geography of the perennially popular potluck dish, whose hearty, crowd-feeding appeal stretches from Wisconsin to St. Louis, Latvia to Korea and beyond.
Download Erin's recipe here: German Potato Salad
---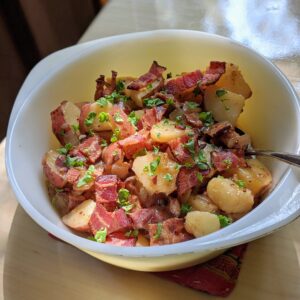 German Potato Salad
6-10 servings
½ lb bacon, fried and crumbled.
4 T bacon fat
1 small onion, chopped and sautéed in the bacon fat.
1.5 lbs red potatoes, boiled until nearly done. Drain well. Slice or cut into large bite size pieces. Keep warm until the dressing is ready.
Dressing, mix thoroughly:
4 T apple cider vinegar
4 T water
2 T sugar
1 t corn starch
1.5 T whole grain mustard
Once the onions are very tender, add the vinegar mixture and cook until thickened.
Combine the hot dressing and the potatoes. Add the bacon crumbles and stir gently. Adjust seasoning.
Serve warm or at room temperature.
Optional: garnish with chopped parsley or sliced green onion tops or even a little bit of finely chopped kale. You could also reserve a bit of bacon to put on top.
Gets better as it sits. Store leftovers in the fridge.
---
Grandma Bomberger's Potato Salad
Mix boiled potatoes diced without skins; boiled eggs, shelled and diced; sweet pickles diced; sweet onions diced (optional); and mayonnaise in a large bowl. Add salt and pepper to taste or let others season themselves.
---
Connect with the Lutheran ladies on social media in The Lutheran Ladies' Lounge Facebook discussion group (facebook.com/groups/LutheranLadiesLounge) and follow Sarah (@mrsbaseballpants), Rachel (@rachbomberger), Erin (@erin.alter), and Bri (@grrrzevske) on Instagram.
---
The Lutheran Ladies Lounge is the podcast produced by KFUO Radio and hosted by Sarah Gulseth, Erin Alter, Rachel Bomberger, and Bri Gerzevske. Created for Lutheran ladies to have a place to escape to with inviting conversations, laughter, and fellowship with Lutheran sisters, we invite all of you Lutheran ladies to join Sarah, Erin, Rachel, and Bri on the sofa in the Lutheran Ladies Lounge to sit, rest your feet, and stay a while. If you're a Lutheran lady, join us in our Facebook group: facebook.com/groups/LutheranLadiesLounge.