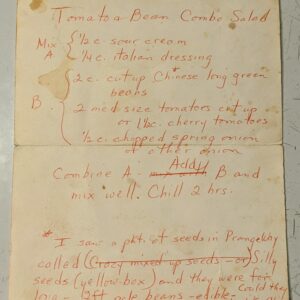 It's a new Iron Ladle Challenge, and this time, the Ladies are tackling cookout side dishes!
Rachel begins with a rhapsodic ode to a Midwest classic: ramen noodle slaw. Sarah experiments with a new allergy- and intolerance-friendly medley of roasted veggies, and offers a bonus recipe for homemade sparkling ginger soda. Erin brings to the table a pair of vintage family recipes–for sour cream bean and tomato salad and champagne bean salad–and Bri goes full comfort-food with her favorite corn casserole.
Let your mouth water as you glean a few tasty ideas for your next summer cookout, picnic, or barbecue.
---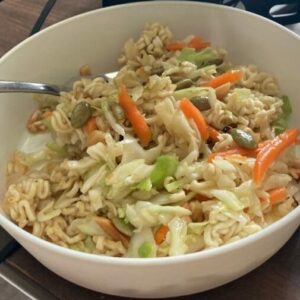 Rachel's Ramen Noodle Slaw
Ingredients
In a roomy bowl, combine:
1 bag coleslaw mix
2 packages crushed dry ramen noodles (prefer beef or soy sauce flavor; reserve sauce packet)
Add-ins to taste*
In a small saucepan or microwave-safe bowl, combine:
1/4 cup white sugar
1/4 cup white vinegar
1/4 cup vegetable other other mild-tasting oil
2 ramen flavor packets
Instructions
Heat just until the sugar and flavorings are completely dissolved. Pour sauce over slaw. Mix (and mix well).
*Add-ins could include: toasted almonds, sunflower seeds, pepitas, toasted sesame seeds, slivered onions, slivered red cabbage, sliced green onions, chives, or scallions, pickled ginger, or french fried onions. Get creative!
---
Sarah's Sheet Pan Roasted Veggies 
Ingredients
24oz chopped butternut squash

24oz chopped zucchini

12oz chopped broccoli

 
(Equal parts butternut and zucchini, half broccoli.) 
Instructions
Preheat oven to 400. Toss butternut in olive oil, salt, and pepper. Spread evenly on large baking sheet. Bake about 20 minutes, or until the butternut is starting to brown. While that's baking, chop zucchini and broccoli. Keep separate. Toss both in olive oil, salt, pepper. (less is more.) Take butternut out, stir around. Layer zucchini on top, and broccoli on top. Put back in oven and bake about 20 more minutes until the broccoli is roasted on top and the zucchini is no longer hard. 
Find pre-chopped butternut unless you like cutting up a whole one.

 

I quarter zucchini lengthwise and chop into ¼" ish slices, to make quarter rounds.

 

Chop broccoli into bite-size pieces. (Or buy pre-cut. No shame.)

 

I love olive oil, but too much will make it all mushy.

 

Other herbs like rosemary, thyme, or some garlic would be delicious. Even a dash of parmesan at the end would be very good!

 

I use Celtic salt for the flavor and minerals. Highly recommend.

 
---
Sarah's Homemade Ginger seltzer 
First, ginger syrup from The Harvest Kitchen. Recipe: theharvestkitchen.com/ginger-syrup-recipe
Ingredients 
3/4 cup filtered water

 

1 cup fresh ginger root, peeled and sliced (about 4oz)

 

3/4 cup clover honey (add to taste!)

 
Instructions  
Peel ginger and cut into pieces. (You don't have to peel it.)

 

Bring ginger and water to a simmer in a small saucepan over medium-low heat.

 

Simmer uncovered for 20 minutes.

 

Strain through a sieve and reserve ginger for another use or discard.

 

Set ginger water aside to cool for 5 minutes

 

Add honey 1/4 cup at a time and mix with water until honey dissolves and you achieve desired sweetness.

Pour ginger honey mixture in a glass jar and seal lid.  Store in refrigerator. 

 
Add mixture to plain sparkling water until desired sweet/spiciness is achieved! (I added a little more than half to 1 liter of water, and that was about right.)
---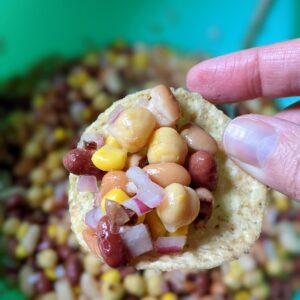 Erin's Champagne Bean Salad 
Serves a lot 
Combine: 
1 can each:

 

Small Red Beans

 

Garbanzo beans

 

Black-eyed peas

 

Pinto beans

 

Cannellini beans

 

And 1 small can of corn

 

½ c Red onion, finely chopped

 
Combine in another bowl until the sugar is dissolved: 
¾ c champagne vinegar

 

3 T sugar

 

2 T  olive oil

 

½ t salt

 
Optional: ¼ c cilantro, chopped 
Mix it all together. It gets better the longer it sits. Eat it at room temperature if possible.  
Serve with tortilla chips, or a spoon.
---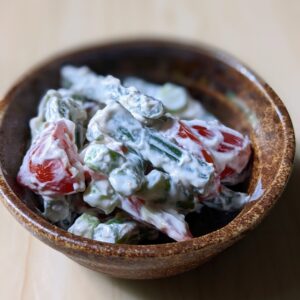 Erin's Sour Cream Green Bean and Tomato Salad 
Serves 4-8 
Mix A:
½ c sour cream

 

¼ c Italian dressing

 
Mix B:

2 c green beans, cut up (lightly cooked) 

 

1 ½ c cherry tomatoes, sliced (or 2 medium tomatoes, cut up)

 

½ c chopped spring onion (or other onion)

 
Combine A. Add B and mix well. Chill 2 hours. 
---
Bri's Corn Casserole
Ingredients
1 box Jiffy corn muffin mix
1 egg
1/4 cup butter, melted
1 can creamed corn
1 can corn, drained well
1/3-1/2 cup sugar (I used a half because DUH)
Pinch of salt
Instructions
Preheat oven to 350℉.
Mix all ingredients together in a mixing bowl.
Grease a 1 1/2 – 2 quart baking dish, pour in corn cake mixture.
Bake for 25-30 minutes or until mixture is still just a tiny big jiggly in the center.
Remove from oven, allow to cool 5-10 minutes and serve.
Serves "6."
---
Connect with the Lutheran Ladies on social media in The Lutheran Ladies' Lounge Facebook discussion group (facebook.com/groups/LutheranLadiesLounge) and on Instagram @lutheranladieslounge. Follow Sarah (@hymnnerd), Rachel (@rachbomberger), Erin (@erinaltered), and Bri (@grrrzevske) on Instagram!
Sign up for the Lutheran Ladies' Lounge monthly e-newsletter here, and email the Ladies at lutheranladies@kfuo.org.
---
The Lutheran Ladies Lounge is the podcast produced by KFUO Radio and hosted by Sarah Gulseth, Erin Alter, Rachel Bomberger, and Bri Gerzevske. Created for Lutheran ladies to have a place to escape to with inviting conversations, laughter, and fellowship with Lutheran sisters, we invite all of you Lutheran ladies to join Sarah, Erin, Rachel, and Bri on the sofa in the Lutheran Ladies Lounge to sit, rest your feet, and stay a while. If you're a Lutheran lady, join us in our Facebook group: facebook.com/groups/LutheranLadiesLounge.