Need help planning a baptismal birthday party? Never fear! The Lutheran Ladies' Lounge party-planning committee is here! 
In this four-segment Sharathon episode, the Ladies provide friendly advice to anyone hoping to celebrate a baptism birthday in style. Rachel (subcommittee for interesting conversation) starts things off with a short Trivia Challenge all about the history and theology of baptism. Erin (recipe subcommittee) introduces a luscious simul-justus-et-peccator-inspired dessert recipe for Choco-Flan, also known as Impossible Cake. Sarah (music subcommittee) tells the story of a beloved baptism hymn: "God's Own Child, I Gladly Say It," and Bri (subcommittee for fun) brings it home with five tips for planning the most enjoyable party possible.  
Sources referenced in Rachel's Trivia Challenge:  
Erin's friend's recipe for Choco-Flan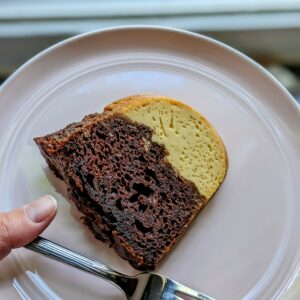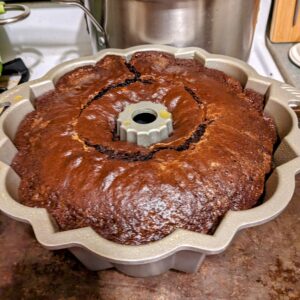 Recipe from Clelia Gonzalez 
Preheat oven at 350.  
For the cake: store bought cake mix, I personally like Devil's food one because to me is more chocolatey, but any chocolate cake mix will do, prepare cake mix as per instructions in the box.  
For flan: you'll need 6 large eggs, one can of evaporated milk, one can of condensed milk, a dash of vanilla extract, put all ingredients in blender, until well mixed. 
Now, grease, with butter or non-stick spray, a Bundt cake pan, now proceed pouring all the cake batter. When done proceed to slowly pour all of the flan mix, bake for about 40-50 mins, or until you stick a fork/toothpick and comes out clean.  
Let it cool down, and store in fridge. Once it is cold, you can release it onto a plate. Decorate with "cajeta/dulce de leche or caramel syrup and chopped pecans, you can decorate it prior to storing in fridge or prior to eating it.  
Enjoy!!  
The Lutheran Ladies' Lounge podcast is produced by KFUO Radio, the listener-supported broadcast voice of The Lutheran Church—Missouri Synod. To support the work of KFUO Radio during Sharathon (or anytime) — and request an exclusive Lutheran Ladies' Lounge thank-you gift — visit kfuo.org or text "KFUO" to 41444. 
---
Connect with the Lutheran Ladies on social media in The Lutheran Ladies' Lounge Facebook discussion group (facebook.com/groups/LutheranLadiesLounge) and on Instagram @lutheranladieslounge. Follow Sarah (@hymnnerd), Rachel (@rachbomberger), Erin (@erinaltered), and Bri (@grrrzevske) on Instagram!
Sign up for the Lutheran Ladies' Lounge monthly e-newsletter here, and email the Ladies at lutheranladies@kfuo.org.
---
The Lutheran Ladies Lounge is the podcast produced by KFUO Radio and hosted by Sarah Gulseth, Erin Alter, Rachel Bomberger, and Bri Gerzevske. Created for Lutheran ladies to have a place to escape to with inviting conversations, laughter, and fellowship with Lutheran sisters, we invite all of you Lutheran ladies to join Sarah, Erin, Rachel, and Bri on the sofa in the Lutheran Ladies Lounge to sit, rest your feet, and stay a while. If you're a Lutheran lady, join us in our Facebook group: facebook.com/groups/LutheranLadiesLounge.