Our intrepid kitchen scientist Erin wanted to know: Which is the undisputed queen of dessert bars on the Lutheran potluck table?  
So, using Maximum Science™, she took to Facebook to help her find out. Beginning with a call for nominations that resulted in dozens of entries, she whittled the list of competitors down to eight, then used a series of polls to determine the ultimate winner. Throughout all seven Facebook polls, Lutheran ladies worldwide watched anxiously to see which dessert would be named "Best of the Bars." Would it be the decadent 7 Layer Bars? The outsider Strawberry Pretzel Dessert? The upstart Jam Shortbread Bars? Or would that faithful classic — Lemon Bars — win the day at last?  
In this Iron Ladle Challenge, Sarah, Erin, and Rachel enjoy a play-by-play of the Tournament of Bars, and each shares her own favorite bar recipe — for cranberry-almond shortbread bars, lemon bars, and peanut butter bars, respectively.  
---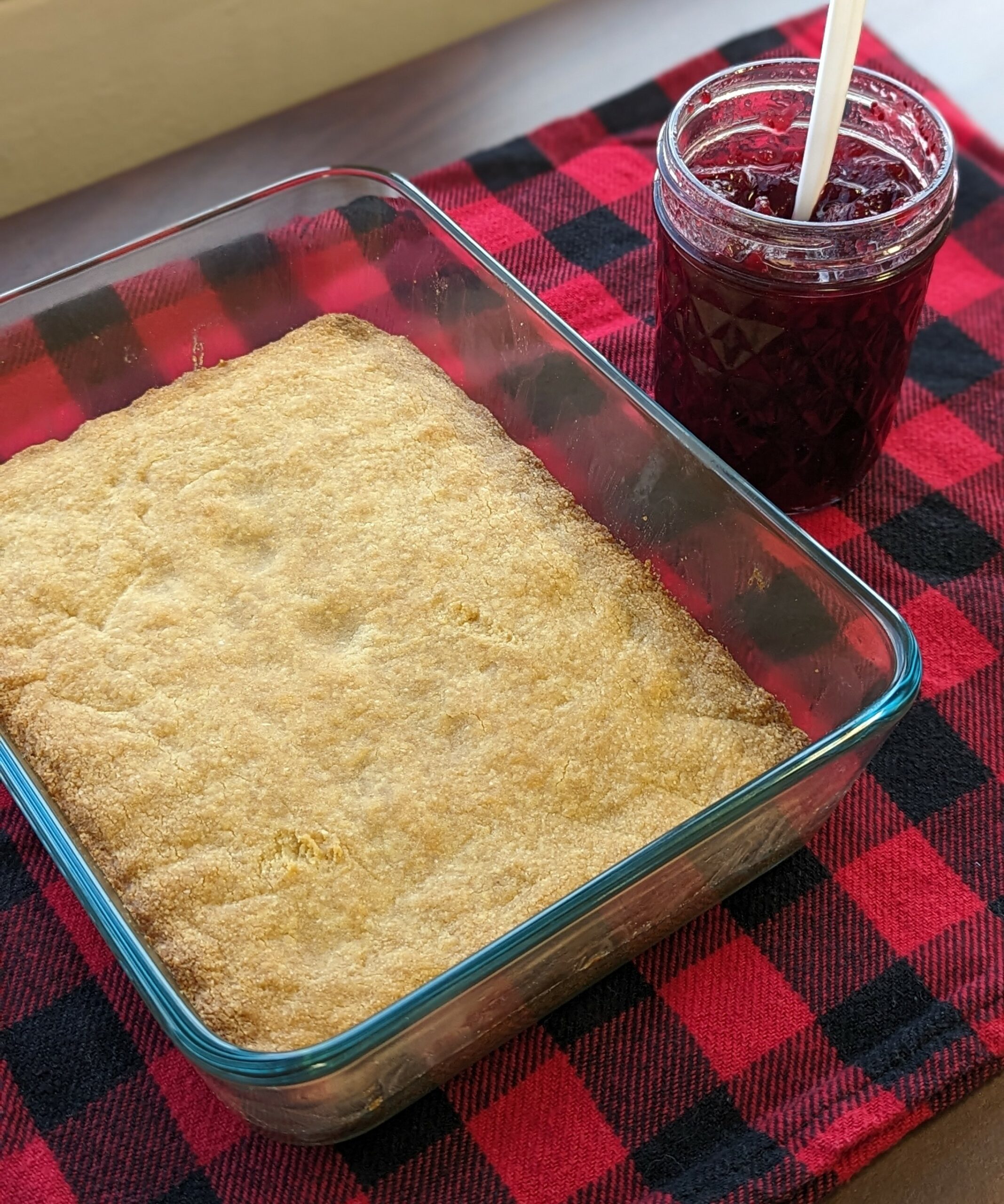 Cranberry Almond Shortbread Bars
Preheat oven to 350 degrees. (Might work better at 375, depending on your oven.)
Shortbread:
Mix until well-combined:
2 cups blanched fine almond flour
4 Tbs olive oil (the more flavorful, the better!)
4 Tbs maple syrup (or honey)
pinch of salt
2 tsp vanilla extract (optional)
Oil a small baking dish ( i.e. 7×5, 8×8, etc.). Pack dough into the dish, making sure it's evenly spread. Bake in oven about 20-25 minutes, until the edges are golden and the middle is no longer soft.
Cranberry sauce!
In a medium saucepan, mix:
1 bag of fresh or frozen cranberries (I use from frozen almost exclusively.)
3/4 cup water
2/3 cup maple syrup
Cook on high heat, stirring frequently, until the cranberries begin to pop or separate. Turn down heat and mash the cranberries. Turn off heat and let cool before serving. Store in the fridge!
Serving options:
Put a layer of cranberry sauce on top of the bars for the last 10 minutes or so of the bake time to make more solid cranberry layer.
Keep shortbread and cranberry sauce separate and let people layer their own!
Make fresh cranberry sauce and mix a little gelatin in before layering on top to make a more solid cranberry layer.
*PRO TIPS:
This burns very quickly! Keep a careful watch once the edges start to darken.
It will likely not be done as soon as you smell it, like other baked goods. They will likely need 3-5 more minutes after you start to smell them.
Do not layer fresh cranberry on completely done bars and let them sit for a long time. The cranberry will soak in and become mush!
---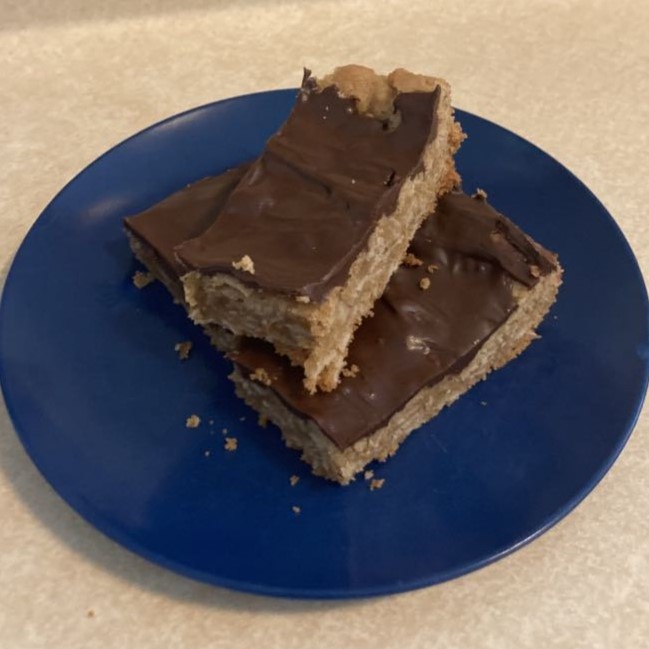 Peanut Butter Fingers 
Preheat oven to 325 degrees.  
Cream together: 
½ cup softened butter

 

½ cup white sugar

 

½ cup packed brown sugar

 
Beat in: 
1 egg

 

1/3 cup peanut butter

 

½ tsp. vanilla

 
Separately, mix: 
1 cup flour

 

½ tsp. baking soda

 

¼ tsp. salt

 
Add dry ingredients to wet and mix until well combined. Finally, mix in: 
Spread in greased 9×13 pan and bake at 325 degrees for 20 minutes. As soon as the pan comes out of the oven, sprinkle evenly over the bars: 
After 5-10 minutes, when chocolate chips are melted, use the back of a metal tablespoon to spread the melted chocolate smoothly over the pan, up to within about ½ inch of the crust. Allow chocolate to cool and firm before cutting bars into rectangles.  
---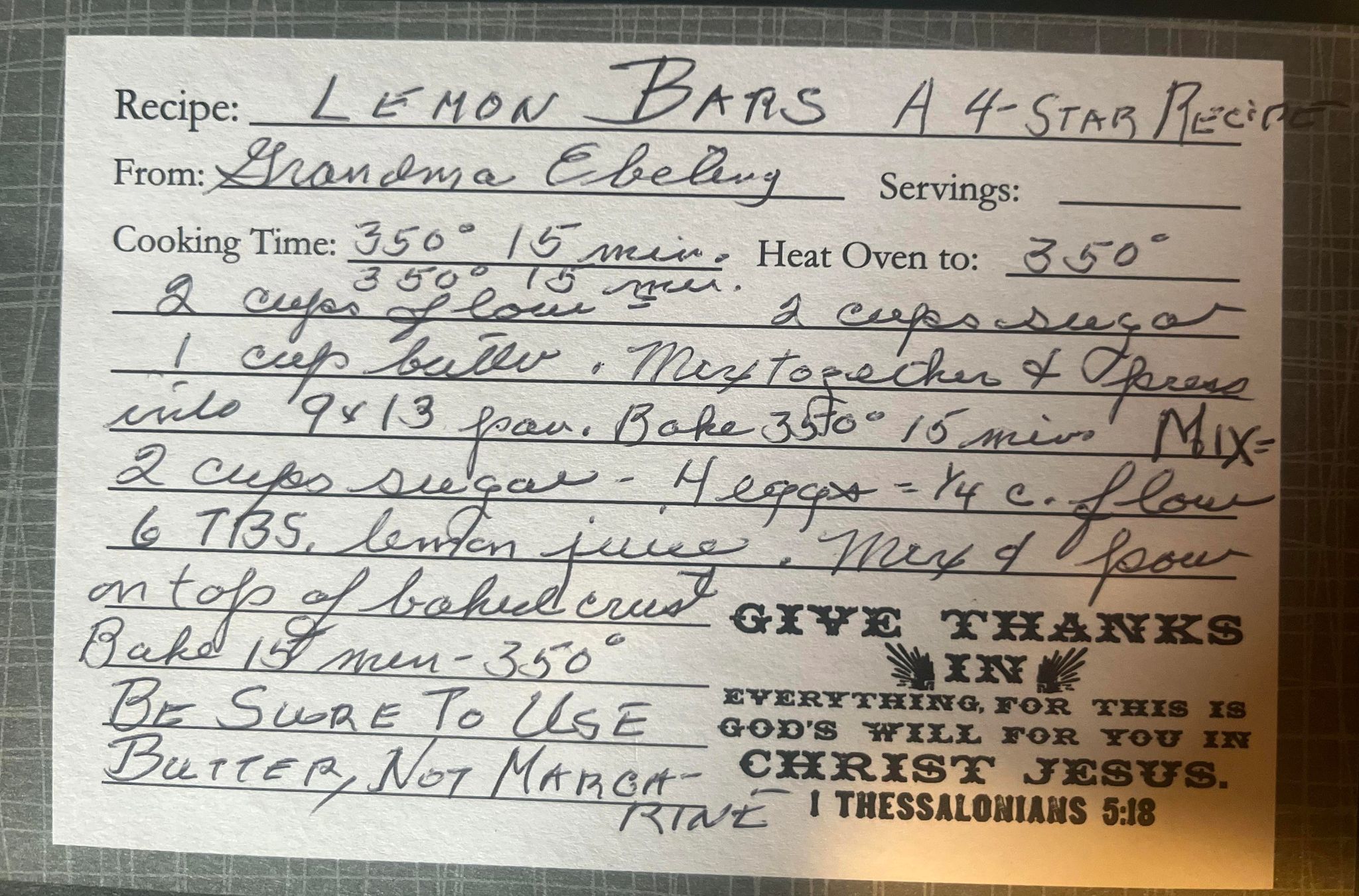 Haley Hazen's Grandma Ebeling LEMON BARS: A 4-STAR RECIPE
Preheat oven to 350 degrees.
Mix and press into a 9×13 pan:
2 cups flour
2 cups sugar
1 cup butter
Bake at 350 for 15 minutes.
Mix and pour on top of baked crust:
2 cups sugar
4 eggs
1/4 cup flour
6 Tbs lemon juice
Bake again at 350 for 15 minutes.
"BE SURE TO USE BETTER, NOT MARGARINE." These are wise words.
---
Connect with the Lutheran Ladies on social media in The Lutheran Ladies' Lounge Facebook discussion group (facebook.com/groups/LutheranLadiesLounge) and on Instagram @lutheranladieslounge. Follow Sarah (@hymnnerd), Rachel (@rachbomberger), and Erin (@erinaltered) on Instagram!
Sign up for the Lutheran Ladies' Lounge monthly e-newsletter here, and email the Ladies at lutheranladies@kfuo.org.
---
The Lutheran Ladies Lounge is the podcast produced by KFUO Radio and hosted by Sarah Gulseth, Erin Alter, and Rachel Bomberger. Created for Lutheran ladies to have a place to escape to with inviting conversations, laughter, and fellowship with Lutheran sisters, we invite all of you Lutheran ladies to join Sarah, Erin, and Rachel on the sofa in the Lutheran Ladies Lounge to sit, rest your feet, and stay a while. If you're a Lutheran lady, join us in our Facebook group: facebook.com/groups/LutheranLadiesLounge.