Thanksgiving is coming — and that means it's time once again to put on our eating pants and enjoy some delicious "hot fat carbs."  
In this Iron Ladle Challenge, the Ladies discuss and share favorite recipes for what they consider the ultimate comfort-food Thanksgiving side: stuffing.  
Do we call the dish "stuffing" or "dressing"? Should stuffing actually be stuffed into an uncooked turkey? Should it be served hot or cold — and if hot, how do you keep it warm while the rest of the feast bakes? Which is better: yeast bread or cornbread stuffing? What are the best add-ins to ensure the most savory, palatable, and memorable side dish?  
And can Erin and Rachel agree to disagree about their very different approaches to "savory bread pudding"?  
---
Erin's Stuffing with Everything
Ingredients:
1 lb. sliced bread, cut into cubes, and toasted in a 375 oven
1 lb. bulk sausage- Italian, breakfast, garlic herb, your choice OR 1 lb. bacon lardons
6 T butter, divided
2 c onion, chopped
1 c celery, chopped
1 t dried thyme
.75 t salt
.5 t pepper
1/8 t cloves (or a good sprinkle)
2 med/lg apples- sweet tart variety, small bite size pieces
.5 c parsley, minced
.75 c pecans, toasted (set a timer so they don't burn in the oven! Start checking at 5 min)
.75 c dried fruit- cherries are especially good
1 c stock- plus more
Directions:
Brown the sausage (or bacon lardons) in a large skillet. Once it is well browned, remove it to a very large bowl and strain off fat, if there is an excess. Alternatively, decrease the butter, if your fat is especially tasty.
Add half the butter to the pan and sauté the onions and celery until tender. Add the thyme, salt, pepper, and cloves. Combine well then remove to the bowl. Add the remaining butter and the apples to the pan and sauté until tender. Be sure to scrape up any good brown bits with the juice released from the apples. Add the apples to the bowl.
To the sauteed ingredients, add the toasted bread cubes, parsley, pecans, and dried fruit. Toss well to thoroughly combine. Then drizzle 1 cup of stock over the mixture and toss Even More Thoroughly.
If possible, let the stuffing mixture rest for an hour (or refrigerate for a couple of days). Before cooking, test a few bread cubes to see if they need more stock. They should be chewy and delicious- not soggy and not tough. Stop testing now. It will be even more delicious after baking, if you can even believe it.
Heat the oven to 350. Put the stuffing into a buttered 9×13 casserole dish. Cover with foil so it doesn't dry out. Bake ~25 minutes then remove foil and bake uncovered for 15 minutes until brown and crisp and glorious.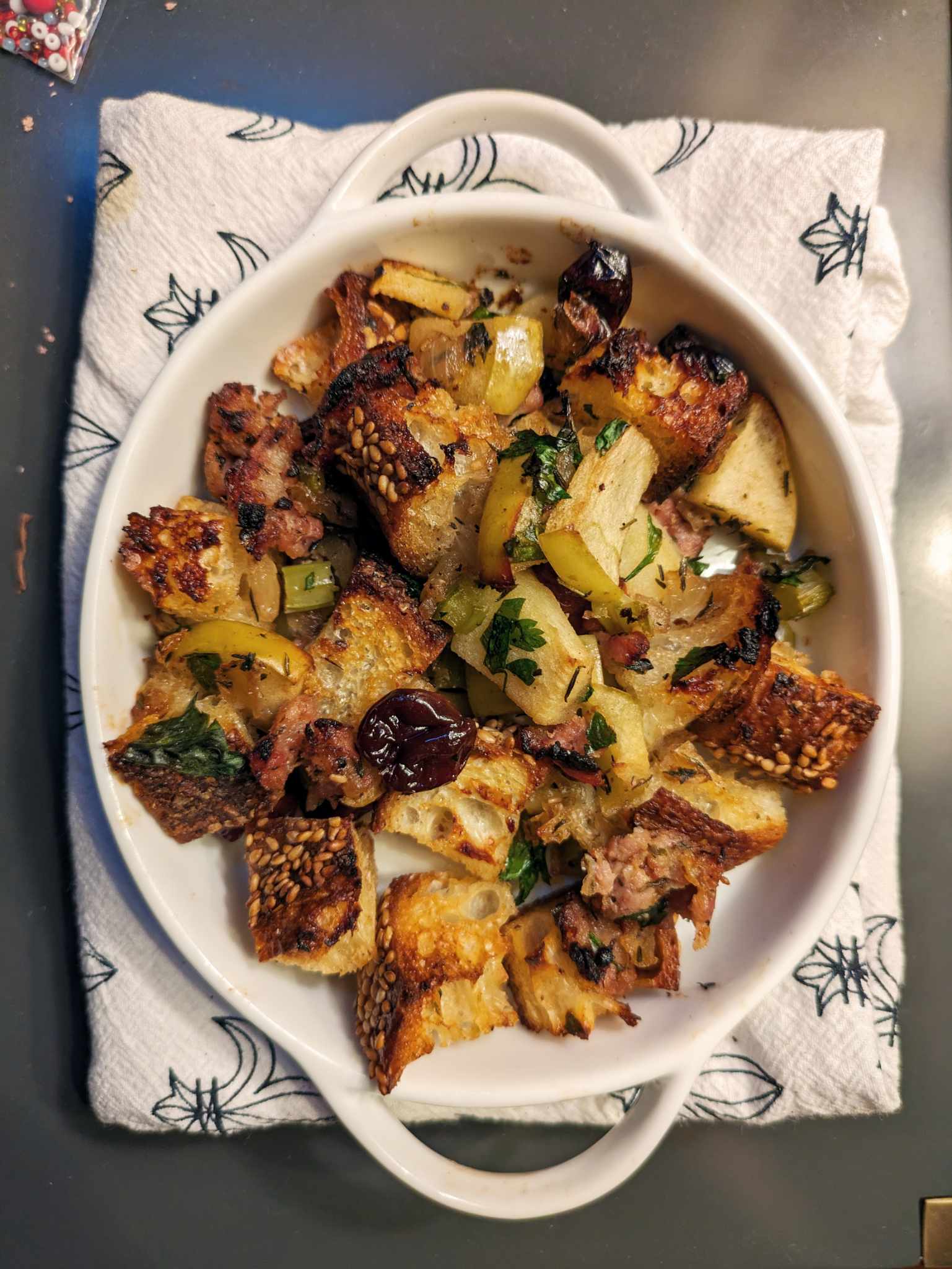 ---
Sarah's "Bossard Family Stuffing"
1 box of Pepperidge Farm Herb Seasoned Classic Stuffing
Prepare according to directions. Don't skimp on that butter, folks. Chill stuffing.
In the meantime, chop apples (gala are great) and walnuts (get the whole ones and crack them open if you want!), and gather raisins, all to taste. When the stuffing is chilled, add ingredients and combine. Return to refrigerator until ready to eat!
---
Rachel's Out-of-the-B

ag

(and Out-of-the-Can)

Stuffing
Sautee half a diced onion in a generous dollop of butter until almost carmelized.

 

Add fresh chopped sage and thyme to taste.

 

Add a cup or so of chicken broth and the juice from two cans of whole oysters. And also, if you like, more butter. 🙂

 

Bring liquid to a boil and add one bag of Pepperidge Farm Country Style stuffing.

 

Cover, remove from heat, and let sit five minutes.

 

Fold in oysters (chopped or not) and transfer to buttered baking dish.

 

Bake at 350 degrees to desired toastiness.

 
---
Connect with the Lutheran Ladies on social media in The Lutheran Ladies' Lounge Facebook discussion group (facebook.com/groups/LutheranLadiesLounge) and on Instagram @lutheranladieslounge. Follow Sarah (@hymnnerd), Rachel (@rachbomberger), and Erin (@erinaltered) on Instagram!
Sign up for the Lutheran Ladies' Lounge monthly e-newsletter here, and email the Ladies at lutheranladies@kfuo.org.
---
The Lutheran Ladies Lounge is the podcast produced by KFUO Radio and hosted by Sarah Gulseth, Erin Alter, and Rachel Bomberger. Created for Lutheran ladies to have a place to escape to with inviting conversations, laughter, and fellowship with Lutheran sisters, we invite all of you Lutheran ladies to join Sarah, Erin, and Rachel on the sofa in the Lutheran Ladies Lounge to sit, rest your feet, and stay a while. If you're a Lutheran lady, join us in our Facebook group: facebook.com/groups/LutheranLadiesLounge.