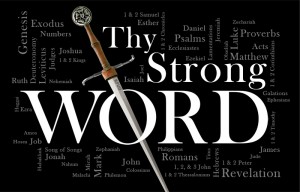 Thy Strong Word
Hosted by Rev. William Weedon

With guests Rev. Michael Walther and Rev. Scott Adle from Good Shepherd Lutheran Church in Collinsville, IL.
Romans 4
Abraham Justified by Faith
4 What then shall we say was gained by[a] Abraham, our forefather according to the flesh? 2 For if Abraham was justified by works, he has something to boast about, but not before God. 3 For what does the Scripture say? "Abraham believed God, and it was counted to him as righteousness." 4 Now to the one who works, his wages are not counted as a gift but as his due. 5 And to the one who does not work but believes in[b] him who justifies the ungodly, his faith is counted as righteousness, 6 just as David also speaks of the blessing of the one to whom God counts righteousness apart from works:
7 "Blessed are those whose lawless deeds are forgiven,
    and whose sins are covered;
8 blessed is the man against whom the Lord will not count his sin."
9 Is this blessing then only for the circumcised, or also for the uncircumcised? For we say that faith was counted to Abraham as righteousness. 10 How then was it counted to him? Was it before or after he had been circumcised? It was not after, but before he was circumcised. 11 He received the sign of circumcision as a seal of the righteousness that he had by faith while he was still uncircumcised. The purpose was to make him the father of all who believe without being circumcised, so that righteousness would be counted to them as well, 12 and to make him the father of the circumcised who are not merely circumcised but who also walk in the footsteps of the faith that our father Abraham had before he was circumcised.
The Promise Realized Through Faith
13 For the promise to Abraham and his offspring that he would be heir of the world did not come through the law but through the righteousness of faith. 14 For if it is the adherents of the law who are to be the heirs, faith is null and the promise is void. 15 For the law brings wrath, but where there is no law there is no transgression.
16 That is why it depends on faith, in order that the promise may rest on grace and be guaranteed to all his offspring—not only to the adherent of the law but also to the one who shares the faith of Abraham, who is the father of us all, 17 as it is written, "I have made you the father of many nations"—in the presence of the God in whom he believed, who gives life to the dead and calls into existence the things that do not exist. 18 In hope he believed against hope, that he should become the father of many nations, as he had been told, "So shall your offspring be." 19 He did not weaken in faith when he considered his own body, which was as good as dead (since he was about a hundred years old), or when he considered the barrenness[c] of Sarah's womb. 20 No unbelief made him waver concerning the promise of God, but he grew strong in his faith as he gave glory to God, 21 fully convinced that God was able to do what he had promised. 22 That is why his faith was "counted to him as righteousness." 23 But the words "it was counted to him" were not written for his sake alone, 24 but for ours also. It will be counted to us who believe in him who raised from the dead Jesus our Lord, 25 who was delivered up for our trespasses and raised for our justification.
Footnotes:
Romans 4:1 Some manuscripts say about
Romans 4:5 Or but trusts; compare verse 24
Romans 4:19 Greek deadness
About the Host

The Rev. William C. Weedon accepted the call to serve as The Lutheran Church—Missouri Synod's (LCMS) Director of Worship and International Center Chaplain and was installed on May 7, 2012. In his director of Worship role, Weedon is responsible for proposing and creating programs that carry out the purposes and aims of the LCMS in matters of worship. As chaplain at the LCMS' International Center in St. Louis, he works with the president's office in planning and supervising all chapel services held there, as well as offering informal chaplaincy and counseling services to employees as requested.
A 1982 graduate of Concordia College—New York, in Bronxville, N.Y., Weedon earned Master of Divinity and Master of Sacred Theology degrees from Concordia Seminary, St. Louis, in 1986 and 1998, respectively. Prior to joining the staff at the LCMS International Center, Weedon served as pastor of St. Paul Lutheran Church, Hamel, Ill., since 1992. From 1986 until 1992, he was pastor of Redeemer Lutheran Church, Burlington, N.C.
On August 4, 2014, Rev. Will Weedon joined the Worldwide KFUO Radio team as the program host for Thy Strong Word, a bible study series that examines each book and chapter of the Bible in depth.
---