Listen to the full program:

#NLSW17 Coast to Coast!
Guests Hanne Krause, Principal 6-12th Grade, and Debbie Valentine, Elementary Principal at Trinity Lutheran School in Bend, Oregon, talk about the ministry at Trinity to the Bend community. Learn more at saints.org.
Guest Dina Vendetti, Principal at St. John Lutheran School in Dover, Delaware, talks about St. John and the wonderful children the school serves in the Dover area. Learn more at stjohnsdover.com/sjls.
Listen to the first segment:

Featured School: Trinity Lutheran, Jefferson City, MO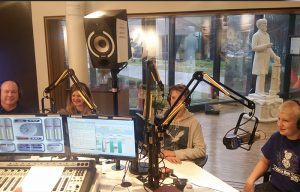 Guests Mr. Steve Resner, 8th grade teacher at Trinity Lutheran School in Jefferson City, Missouri, and students Luke, Grant, and Becca, talk about being students at Trinity and what they hope to do in the future. Learn more at trinityjc.org/school.
Listen to the second segment:

---
Send in your family questions to Family@kfuo.org or call host Andy Bates at (314) 996-1519.
---