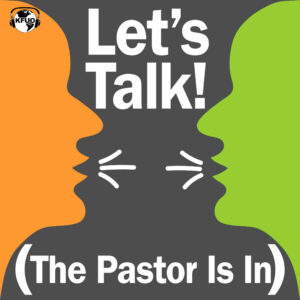 We welcome guest pastor Rev. Andrew Preus from Trinity Lutheran Church in Guttenberg and St. Paul Lutheran Church in McGregor, Iowa. He and host Kip Allen dive into the following questions:
Regarding Corporate Confession in the Divine Service, when I say "I'm heartily sorry for my sins," and yet I keep sinning, does that mean I'm not sorry for my sins?
Question from a listener: How can I get my wife to give Lutheranism, and the local LCMS church, a fair chance? She is very much into a non-denominational marketing church that is more about entertaining than actually talking about Scripture. Not only that, but I strongly disagree with some of their teachings and I'm worried about what my kids are picking up as a result. She says she doesn't like the service at my church.
How important is it for there to be children within a marriage?
Send us your questions! Email letstalk@kfuo.org with your questions for our guest pastors.
Music for "Let's Talk! The Pastor Is In" is Rev. Fred Baue's rendition of "All Glory, Laud, and Honor" on his album "The Great Dance, Church Music for Guitar." Find this album and more of Rev. Baue's music and books, including his latest, "The Pilgrim" at PergolaPress.com.