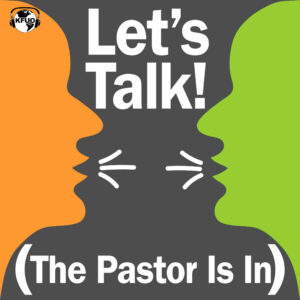 We welcome guest pastor Rev. Philip Zielinski from St. Paul Lutheran Church in Valley City, Ohio. He and host Kip Allen dive into the following questions:
Is body donation and cremation forbidden for Christians?
Will we be family units in heaven? How will our bodies be in heaven?
What will the time between this world and the be like for those who have already passed?
Does the Bible give descriptions of heaven and hell?
How can I understand different translations of the same Bible verses?
Does the language of the writers of the Books of the Bible affect how they wrote?
Lutheran Service Book 757 is a hymn that is pertinent to this discussion "Lord it belongs not to my care." Find the text from The Lutheran Hymnal at lutheran-hymnal.com/lyrics/tlh527.htm.
Send us your questions! Email letstalk@kfuo.org with your questions for our guest pastors.
Music for "Let's Talk! The Pastor Is In" is Rev. Fred Baue's rendition of "All Glory, Laud, and Honor" on his album "The Great Dance, Church Music for Guitar." Find this album and more of Rev. Baue's music and books, including his latest, "The Pilgrim" at PergolaPress.com.