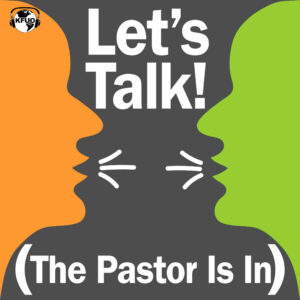 We welcome guest pastor Rev. Philip Zielinski from St. Paul Lutheran Church in Valley City, Ohio. He and host Kip Allen dive into the following questions:
What is the difference between apostle and disciple?
What is the exact number of apostles?
Is it okay to pray with people of different faiths?
What's the right way to use social media to spread the gospel?
What about someone asking for prayer on social media?
How are pastors selected? i.e. calling as opposed to casting of lots, trusting God
Send us your questions! Email letstalk@kfuo.org with your questions for our guest pastors.
Music for "Let's Talk! The Pastor Is In" is Rev. Fred Baue's rendition of "All Glory, Laud, and Honor" on his album "The Great Dance, Church Music for Guitar." Find this album and more of Rev. Baue's music and books, including his latest, "The Pilgrim" at PergolaPress.com.