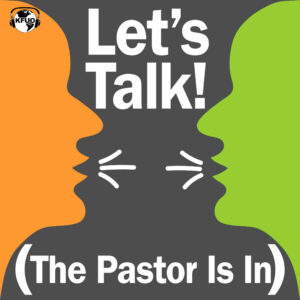 We welcome guest pastor Rev. Lance O'Donnell from Saint Paul Lutheran Church in Oconomowoc, Wisconsin. He and guest host Andy Bates dive into the following questions:
Why are questions about communion so common?
What are sacraments? How are baptism and communion sacraments?
What is pietism?
What are the different confessions of different denominations regarding the sacraments? Where does that leave us as Christians?
What does it undermine if a Lutheran would commune with another denomination?
From listener Denise: "Does it harm our faith to commune at a different denomination? Are there "safe" denominations for a Lutheran to commune with? Is it okay if different elements are used, if we approach the table with the proper understanding of the elements?"
From listener Cheryl: "Does it matter if you use Bible study materials or attend Bible studies that are from other denominations?"
---
Send us your questions! Email letstalk@kfuo.org with your questions for our guest pastors.
---
Music for "Let's Talk! The Pastor Is In" is Rev. Fred Baue's rendition of "All Glory, Laud, and Honor" on his album "The Great Dance, Church Music for Guitar." Find this album and more of Rev. Baue's music and books, including his latest, "The Pilgrim" at PergolaPress.com.