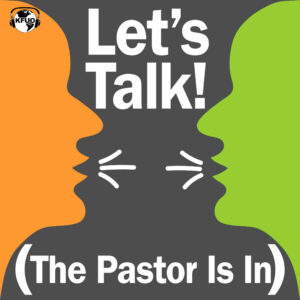 We welcome guest pastor Rev. Andrew Preus from Trinity Lutheran Church in Guttenberg and St. Paul Lutheran Church in McGregor, Iowa. He and host Kip Allen dive into the following questions:
Do we overthink the Bible?
Do things ever not translate well into English?
What is the message of the Bible?
How do you have faith like a child?
What's the most difficult question a parishioner has asked?
Does the Hebrew word "fear" have a different connotation than the English word?
What's the easiest question to answer as a pastor?
Why did the centurion in John 13 humble himself before Jesus?
Did Jesus recognize the authority of Rome to crucify him?
Send us your questions! Email letstalk@kfuo.org with your questions for our guest pastors.
Music for "Let's Talk! The Pastor Is In" is Rev. Fred Baue's rendition of "All Glory, Laud, and Honor" on his album "The Great Dance, Church Music for Guitar." Find this album and more of Rev. Baue's music and books, including his latest, "The Pilgrim" at PergolaPress.com.